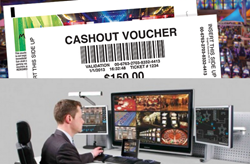 TITO Scams cost casinos hundreds of thousands, if not millions....
Las Vegas, NV (PRWEB) September 23, 2015
eConnect, Inc., a Las Vegas-based software company which provides hospitality and gaming companies a platform for actionable information, reinforced by video, will reveal their latest Casino Technology at G2E. The Casino Connect™ TITO Module, allows users to follow a ticket from point of origination at the slot machine to its final conclusion regardless of how many stops are along the way. TITO investigations that would previously take hours, can now be completed in seconds.
"This is a truly unique offering for the Gaming world." commented Henry Valentino, President & CEO at eConnect. "TITO Scams cost casinos hundreds of thousands, if not millions, in lost revenue each year. We're happy to provide our customers a solution, and are thrilled with the response it's received."
eConnect's TITO module operates on the same platform as the other Casino Connect™ modules designed to detect fraud in BlackJack, Baccarat, Roulette and Player Ratings.  The TITO module has been initially deployed at multiple clients around the world.
About eConnect
eConnect™ is a cutting-edge technology company that helps improve business performance through data and video intelligence. The company seamlessly integrates digital video surveillance with transactional data from point-of-sale (POS), casino systems, people counting and other data sources to quickly and directly improve profitability, efficiency and the guest experience. eConnect offers measurable ROI within months of system deployment. The software tools are world-renowned for their ability to discover previously unknown problems, thereby reducing eliminating sources of loss and correcting operational problems. For more information visit http://www.econnectglobal.com or get social with us on LinkedIn, Facebook http://www.facebook.com/econnect.tv, and Twitter @econnectinc.