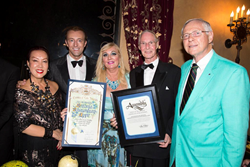 Los Angeles, CA (PRWEB) September 23, 2015
Internationally renowned celebrity fashion designer Sue Wong hosted a star-studded birthday celebration in honor of H.H. Dr. Princess Antonia Schaumburg-Lippe at her historic Hollywood landmark palazzo, The Cedars. The special event was attended by dignitaries such as Los Angeles Superintendent Mike Antonovich, who presented the Princess with a special welcoming award from the County of Los Angeles. Entertainment luminaries such as actor Ronn Moss (THE BOLD AND THE BEAUTIFUL), director Rob Minkoff (THE LION KING), actor-director Tony Tarantino, actress Alice Amter (THE BIG BANG THEORY), actress Jo Hilton, actress Sofia Milos (CSI: MIAMI), Grammy winner and recording artist Omar Akram, rockers Chris Pitman (GUNS N' ROSES) and Ralph Rieckermann (SCORPIONS); as well as Hollywood major players such as Director of BAFTA, Sandro Monetti and former BAFTA Chairman of the Board Nigel Daly, OBE were also in attendance. Additionally, top echelon entrepreneurs, accomplished visionaries, stylists and photographers in the worlds of fashion, film, music and sports joined in the glamorous celebration.
Her Highness Princess Antonia is a German princess from the founding family of Hamburg, Lübeck and Kiel. She is an award-winning author, key-note speaker and TV-personality and a former member of the legislature of Salzburg, who additionally holds a Masters degree in Law and a Doctorate in Veterinary Medicine. Her husband Prince Waldemar, is the son of H.R.H. Princess Feodora of Denmark and cousin of Her Majesty Queen Margrethe II of Denmark. H.H. Prince Waldemar has a royal family lineage dating more than 1100 years and is family to 25 monarchial heads of state to-date, through their mutual ancestor King Christian IX. Their son H.H. Dr. Prince Mario-Max Schaumburg-Lippe is a multi award winning TV-host, actor and entertainer. The family travels between their residences in Monaco, Austria and Germany. Official website of the Prince Waldemar princely family of Schaumburg-Lippe-Nachod: http://www.schaumburg-lippe.org . Prince Mario-Max, Prince Waldemar and Princess Antonia Schaumburg-Lippe fervently admire the timeless, poetically-powerful and demographically diverse designs of renowned fashion designer Sue Wong.
SUE WONG gowns personify the universal Goddess Energy that resides in each and every woman. Flattering and lyrical, timeless and modern: SUE WONG gowns radiate a royal magic, drawing on mystique and seduction. When a woman puts on a SUE WONG, her majestic essence is awakened and an emissary of beauty is born. Royalty is not solely determined by lineage, but is often defined by one's soul character.
Esteemed guests were additionally enchanted by sampling the recently-launched SUE WONG Eau de Parfum, which binds all things SUE WONG into one unique fragrance: romantic, alluring, sensual, timeless, and elegant. The fragrance and Art Deco bottle were designed by Sue Wong herself. It is currently exclusively available through Atelier SUE WONG in both 50ml and 100ml bottles. As Sue insightfully shares: "The SUE WONG Eau de Parfum is sensual, beautiful and intoxicating in a very exotic floral way; yet hypnotically feminine. This fragrance is befitting for a true Goddess; a woman who connects with her royal essence and her Feminine Divine". Beauty is a powerful healing agent and is synonymous with the SUE WONG mantra of Beauty ~ Magic ~ Transformation.
ABOUT SUE WONG
World renowned fashion designer Sue Wong is known for dazzling fashionistas with her couture-inspired glamorous signature style, combining the allure and elegance of iconic bygone eras with a modern sensibility to create timeless works of art. Distinguished by the impeccable quality of traditional couture dress making, her designs are steeped in romance and mystery while being thoroughly modern and accessible to women everywhere. Sue continues to forge new ground in defining fashion that transcends generations and boundaries even as she creates masterpieces of passion and desire expressed through inimitable style. She has dressed countless celebrities including Anne Hathaway, Jessica Biel, Minnie Driver and Taylor Swift. Sue Wong is available from $385 to $900 nationwide at specialty boutiques, major department stores including Neiman Marcus, Saks Fifth Avenue, Nordstrom, Bloomingdale's, Lord & Taylor, Macy's and internationally in over 27 countries.
Media Contact
Greta Kovacs Schmid
Corporate In-House Public Relations
213-388-7400
http://www.suewong.com