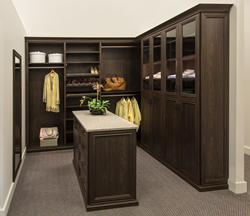 Our showroom gives clients the ability to not only see the product, but to touch it and really begin imagining and brainstorming what will look best in their home.
Pennington, NJ (PRWEB) September 28, 2015
Closet POSSIBLE of Pennington, New Jersey will be hosting a Grand Opening Week at their brand new showroom, located at 1589 Reed Road in Pennington, from Monday, Oct. 5th through Friday, Oct. 9th, 9:00am to 5:00pm each day.
Closet POSSIBLE designs and installs customized organization solutions to help homeowners organize their homes and improve their lives.
During the Grand Opening Week starting Monday October 5th, Closet POSSIBLE will be opening the doors to their newly finished 1,800 square foot showroom to homeowners, builders, decorators and contractors. Owner Barry Curewitz will be on hand along with members of Closet POSSIBLE's expert design and installation team.
Visitors to the showroom can view sample custom closet and storage designs as they might appear in their own home. Nearly a dozen different displays present solutions ranging from entertainment units and laundry rooms to home offices and pantries, as well as two styles of walk-in closets. Customers can also see the variety of colors and textures available in the organization systems. Closet POSSIBLE offers close to 30 color options along with both smooth and textured/grain finishes.
Curewitz says, "Our showroom gives clients the ability to not only see the product, but to touch it and really begin imagining and brainstorming what will look best in their home." A visit to Closet POSSIBLE's showroom during their Grand Opening Week provides an ideal opportunity for homeowners to begin visualizing how organizing solutions can make spaces in their own homes feel more relaxed and inviting.
The entire process at Closet POSSIBLE is designed to be simple and stress-free, from conception to installation. After a design is finalized, installation can begin within two to three weeks. "Most installations take one day or less," says Curewitz, adding, "Our installers are trained to be neat and diligent in the home and respectful of its belongings."
A locally-owned company, Closet POSSIBLE has been in business since the fall of 2014 and has already made an excellent name for itself, designing and installing storage solutions from Bucks County, PA to the Jersey Shore and throughout central New Jersey.
Closet POSSIBLE is passionate about designing and installing custom solutions that help improve lives though improved organization. Dedicated to using only the most beautiful and functional high-quality materials, the team creates personalized organization solutions tailored to individual tastes and styles. From fully customized walk-in closets, to simple solutions for laundry or mud rooms, to a complete family entertainment center, Closet POSSIBLE's goal is to fully understand the customer's needs in order to design organization solutions that truly improves lives.
***
ClosetPOSSIBLE helps organize your home and improve your life by designing and installing custom organization solutions for your home or office. Conveniently located in Pennington, New Jersey, just minutes from I-95 and Route 31, ClosetPOSSIBLE serves the entire central New Jersey area as well as most areas in Bucks County, Pennsylvania. Visit the Closet Possible website.