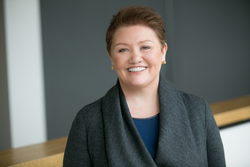 Attendees will come from leading retail and consumer goods companies across North America.
Dallas, Texas (PRWEB) September 23, 2015
More than 1,200 members of the Network of Executive Women will "unlock their power" in Dallas next week at the NEW Leadership Summit 2015, September 30 to October 2 at the Omni Dallas Hotel. NEW is the largest women's leadership organization serving the multi-trillion dollar retail and consumer goods industry.
Denice Torres, co-chair of Johnson & Johnson Consumer Inc., Barnard College President Debora Spar and Home Box Office executive Carla Moore will anchor three days of learning and networking at the women's leadership convention, the industry's largest.
Attendees are coming from a who's who of national food and consumer goods retailers and suppliers, including large delegations from companies with Dallas-area headquarters -- 7-Eleven and Frito-Lay -- plus Ahold USA, Coca-Cola, CVS Healthcare, Giant Foods, Hallmark, Hershey, Johnson & Johnson, PepsiCo, Procter & Gamble, Nestle Purina PetCare, SC Johnson, Target, Walgreens and Walmart.
Denice Torres, co-chair of Johnson & Johnson Consumer Inc. and president of the company's McNeil Consumer Healthcare division, will discuss "purpose, passion and leadership" in her NEW Summit luncheon remarks, Thursday, October 1. The executive will discuss the important of authenticity in today's workplace. "The sooner in their career women can relate to other leaders, the more quickly they feel comfortable bringing their true selves to work. When that happens, we all win." Torres is the Healthcare Businesswomen's Association Woman of the Year for 2015 and was honored in 2013 as Working Mother of the Year by Working Mother magazine.
Debora Spar, the seventh president of Barnard College and author of "Wonder Women: Sex, Power and the Quest for Perfection," will open the convention, Thursday, October 1. Spar is nationally known advocate for women's education and leadership, and is active in the Athena Center for Leadership Studies -- an interdisciplinary center focused on the theory and practice of women's leadership -- and Barnard's Global Symposium, an annual gathering of high-profile women leaders from around the world.
Keynote speaker Carla Moore, vice president of talent acquisition for HBO, will close the NEW Leadership Summit on Friday morning, October 2. Moore is the author of the new book, "CRASH! Leading through the Wreckage," which outlines her personal experience on the role of individual transformation in improving business leadership.
The sold-out Summit will also include learning sessions, workshops, a men's only discussion group and industry networking events, including the fourth annual Celebrating Excellence Awards Gala honoring Network leaders, Thursday evening, October 1.
ABOUT THE NETWORK
The Network of Executive Women is the largest women's leadership organization serving the retail and consumer goods and services industry, representing 9,000 members, 750 companies, 100 corporate partners and 20 regions in the United States and Canada. For more information about its learning programs, events, research and the Network's "It's Time Movement" for women's leadership and workplace change, visit newonline.org.
MEDIA CREDENTIALS
Please contact Rob Wray at 323 702-4709 rwray@newonline.org for information about press credentials.