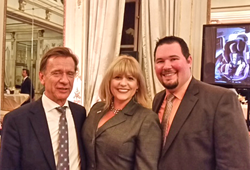 (PRWEB) September 24, 2015
Andrews Federal Credit Union's Kym Shutley, Brussels Branch Manager and Josh Barrett, Chievres Branch Manager , were recently invited guests for the Volvo VIP Evening at Egmont Palace in Brussels, Belgium.
The event celebrated the 50th anniversary of Volvo Car Ghent, as well as debuted the new Volvo XC-90; marking a new chapter in the history of Volvo.
"Kym and Josh have been an essential part of Volvo's success in Belgium within the Diplomatic and Military segments," said Janie McClung, Volvo International Car Sales.
The two also had the pleasure of meeting Volvo CEO Håkan Samuelsson, and learning about Volvo's new and upcoming Charleston, SC plant.
About Andrews Federal Credit Union
Andrews Federal Credit Union was founded in 1948 to serve the needs of military and civilian personnel by providing a vast array of financial products and services. With over $1 billion in assets, Andrews Federal has grown to serve more than 113,000 members in the District of Columbia, Joint Base Andrews (MD), Springfield, Virginia (VA), Joint Base McGuire-Dix-Lakehurst (NJ), and military installations in central Germany, Belgium, and the Netherlands. In addition, the Credit Union serves as a financial partner with many select employee groups in Maryland, the District of Columbia, Virginia and New Jersey.
To learn more about Andrews Federal Credit Union and its community involvement, or to become a member, call 800.487.5500 or visit http://www.andrewsfcu.org.