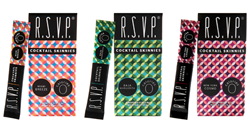 Miami, FL (PRWEB) September 24, 2015
Love a great cocktail but hate all the calories associated with it? The perfect solution is R.S.V.P. ® Cocktail Skinnies, a brand new all-natural, zero calorie, zero sugar premium cocktail mixer that comes in three popular flavors – Miami Breeze, New York Cosmo and Baja Margarita. Perfect for any occasion, whether it be a relaxing cocktail by the pool, bachelorette party or happy hour, the convenient stick pack will fit in the smallest purse and can be taken out to make a drink at the bar!
Made with only the best quality 100% plant-based ingredients, no sugar, no preservatives, and most importantly zero calories, R.S.V.P.® Cocktail Skinnies are truly one of a kind. All of the ingredients are completely recognizable, such as the natural erythritol and stevia sweetener that are used to give the powdered drink mixers a subtle sweetness with no aftertaste. They are also extremely simple to make, no guesswork, fancy ingredients or bar utensils needed. Just mix one R.S.V.P.® Cocktail Skinny with six ounces of water and one ounce of either rum, vodka or tequila, shake or stir and enjoy. The three unique flavor profiles include happy hour favorites from different regions across the U.S:
Miami Breeze- With thoughts of warm Miami nights and soft sea breezes in mind, R.S.V.P.® concocted this mix of fresh pineapple and coconut flavors to blend with either light or dark rum. This refreshing cocktail is like a taste of the tropics, but without the added sugary fruit juices.
New York Cosmo- The quintessential New York cocktail that never goes out of style, R.S.V.P.® blended natural plant extracts to deliver the subtle flavors of cranberry juice and lime juice with just the right amount of natural sweetness that creates the perfect shade of Cosmo "pink" for a night on the town.
Baja Margarita- The perfect margarita is a delicate balance of flavors, simple yet spectacular! R.S.V.P.® carefully crafted natural flavors to deliver the right amount of sweet and sour- the zesty taste of lemons and limes. Expertly blended for the consummate margarita lover and served on the rocks or frozen.
R.S.V.P.® Cocktail Skinnies are packed in slim boxes of six skinnies per box, and retail for $6 per box. They are sold at http://www.rsvpskinnies.com and at Crown Wine & Spirits Miami and Fort Lauderdale locations.