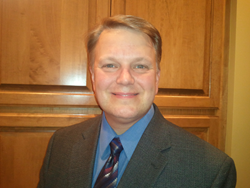 After losing my dad in 2013, I realized that life is short and that the time to pursue my dream was now.
Bloomington, Minn. (PRWEB) September 25, 2015
Keith Dahlen has always been intrigued by the entrepreneurial process: creating a concept from the ground up and being involved in every aspect of the business as it grows and evolves. But it wasn't until experiencing a monumental life change that he decided to leave the financial/IT industry — where he had worked for more than 25 years — to fuel his entrepreneurial spirit.
When his father fell ill and wished to be transitioned home after a stay in the hospital, Dahlen and his family didn't know of many options available to support them. Thus, the idea to launch an in-home senior care business that would help others in similar situations was born. "After losing my dad in 2013, I realized that life is short and that the time to pursue my dream was now," Dahlen remembered.
He threw himself into the process of starting Great Oak Senior Care, a non-medical, in-home care service for older adults with the goal of keeping them in the comfort of their own homes for as long as possible. Their compassionate caregivers provide a range of activities, including light housekeeping duties, meal prep, errand-running, bathing assistance and companionship.
"Knowing that our company is making a huge difference in the lives of the seniors that we work with and their families [is the best part of being a business owner]," Dahlen beamed. In his spare time, he coaches youth hockey and enjoys golfing, fishing, spending time up north and relaxing with his family.
To finance his business, Dahlen called on Guidant Financial to help him leverage some of his existing retirement funds using a process known as a Rollover Business Start-up. This funding vehicle allowed him to launch his start-up without incurring any tax penalties or taking on additional debt.
"Guidant made the process extremely easy and straightforward," Dahlen said. "All of our questions were answered during our phone conference with Guidant, and questions that have come up since are always answered immediately."
Great Oak Senior Care is now open and accepting new clients. To learn more about the senior care services they provide, visit greatoakseniorcare.com, call 651-212-4104 or email Keith(dot)Dahlen(at)greatoakseniorcare(dot)com.
###
About Great Oak Senior Care
Great Oak Senior Care is a locally owned and operated company with the goal of assisting, educating and making an impact on the lives of seniors and their families. Great Oak assists families in the Greater Minneapolis and St. Paul area so they can spend quality time with their loved ones without having to worry about mundane, day-to-day tasks. Their compassionate caregivers can assist with housekeeping duties, pet care, meal preparation, personal hygiene assistance, transportation, general companionship and other services. To learn more, visit greatoakseniorcare.com.
About Guidant Financial
Guidant Financial helps people create the life they want through innovative small business financing. They are the premier provider of rollovers for business start-ups (ROBS). Guidant's services allow people from all walks of life the freedom to purchase small businesses and franchises using their retirement funds without taking a taxable distribution or getting a loan, in addition to offering traditional funding options such as SBA loans, portfolio loans and unsecured credit. Visit Guidant on the Web at guidantfinancial.com.