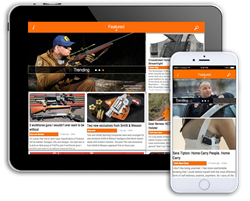 Each time it's downloaded, two liberals lose their wings.
Vine Grove, KY (PRWEB) September 28, 2015
Unlike traditional news aggregation apps, the content in Armory Report is focused entirely on guns. Armory Report retrieves new articles every 15 minutes from over 50 (and growing) credible sources resulting in thousands of articles. The articles and sources are curated by experts with backgrounds in law enforcement, military, and other skills with firearms.
"This app is not meant for the anti-gun crowd," said Burt Walker, founder of Little Man Digital. "In fact, we hope it annoys them to no end. Anti gun people will never be convinced to change their minds, so we make no attempt to try. We're asking gun fans to download and use the app, if for no other reason than to make liberals cringe at its success."
Armory Report has a wide variety of categories from which to choose, including Equipment, Legislation, 2nd Amendment, Concealed Carry, Reviews, etc. The app is currently available on Apple iOS and most desktop browsers. Little Man Digital is also the publisher of Proclivus, a news app focusing entirely on preparedness.
Armory Report can be downloaded free in the Apple App Store.
"This news app is not your typical, broad based news source. You won't find articles about weather, music, sports, or your favorite actor," said David Evangelista, the principal curator of Armory Report. "The articles you'll find here are only about guns."
Built into Armory Report is a powerful search function allowing the user to inquire about any subject of interest with results appearing in seconds. Users are presented with summaries of articles with images and headlines. A simple tap will show the article detail.
Little Man Digital claims Armory Report is legal in all gun free zones and that each time the app is downloaded, two liberals lose their wings.