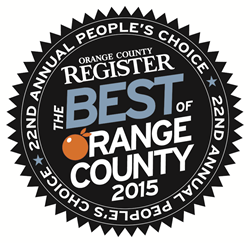 "I am excited and honored to have been voted the 2015 Best of OC Best Cosmetic Surgeon," Dr. Sadati says.
Newport Beach, CA (PRWEB) September 26, 2015
Each year, the Orange County Register announces a list of the Best of OC voted on by local readers. There are a wide range of categories, including Food & Drink, Home & Garden, Luxury, Medical Services and more. This week, at the Register's Inaugural Best of Orange County Awards Celebration, all of the 2015 Best of OC winners were announced with Dr. Kevin Sadati receiving the title of Best Cosmetic Surgeon.
The respect Dr. Kevin Sadati has gained from patients, and local Orange County leaders, has earned him this title. With over a decade of experience, and well over 3000 lower face and neck lifts, and rhinoplasty procedures, performed, he has finely tuned his skills becoming recognized as one of the top facial plastic surgeons in Newport Beach. Dr. Sadati's practice is focused on providing natural-looking, long lasting results in a safe environment. His procedures are highly effective, using minimally invasive modern techniques.
Dr. Sadati has also developed, and published, new techniques for achieving more natural and youthful looking results. For example, he developed a breakthrough facial muscle tightening technique called the "Double C" Plication. This technique is used in his lower face and neck lift procedure providing patients with longer lasting, more natural looking facelift results and is performed under local anesthesia and twilight sedation. The use of local anesthesia is safer, less invasive and less costly than general anesthesia. Dr. Sadati works hard to ensure his patients are comfortable and safe during each procedure.
Through the use of advanced technology and years of experience, coupled with his trained artistic skill in painting and sculpting, Dr. Sadati is able to offer patients a non-surgical look. "I am excited and honored to have been voted the 2015 Best of OC Best Cosmetic Surgeon," Dr. Sadati says. "I work everyday with a wonderful staff that are equally deserving of this award. Without them, I couldn't have so many happy patients. Those patients who voted use to receive this amazing award."
2015 Best of OC winner, Dr. Kevin Sadati is an exceptional and highly specialized facial plastic surgeon that understands aesthetic harmony. Through the culmination of a lifetime of devoted study to both art and science, he is able to provide patients with natural looking results through a range of cosmetic surgery procedures. For more information on Dr. Sadati and his Newport Beach practice at the Gallery of Cosmetic Surgery, visit http://www.galleryofcosmeticsurgery.com/.