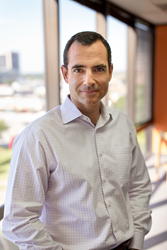 I'm excited to be in an industry and company poised for tremendous growth.
Dallas, TX (PRWEB) September 28, 2015
Endeavor, a Configure-Price-Quote (CPQ) leader, is happy to announce the appointment of Paul Griffith as Chief Operating Officer. Griffith joins the Endeavor team after more than a decade of service in the consumer space with Time Warner and AOL. He will be in charge of three key components of the growing business, Marketing, Product Development and Client Services.
Griffith has made a career in the information technologies and services industry. Most recently, Griffith spent four years as Senior Director, Corporate Business Development at AOL where he led teams focused on the growth and evolution of brands including AOL.com, Wow.com, AOL Search, MapQuest, Huffington Post and TechCrunch. Paul oversaw AOL's partnership and acquisition efforts with consumer Internet brands. Prior to AOL, Griffith, graduate of Texas A&M University, managed global services deployments for Dell Computer Corp.
"Paul's background made him a perfect fit for Endeavor and the burgeoning Configure-Price-Quote industry," said Endeavor CEO and co-founder Sean Myers. "As more and more mid-market businesses learn about the financial impact CPQ software can have on their top and bottom lines, the more companies like Endeavor need people like Paul with strategic growth insights."
Griffith's addition is part of an exciting year of changes for Endeavor. After growing its physical footprint in Dallas, TX, Endeavor announced the latest release of its cloud platform, CPQ9 in April, and re-launched its website endeavorcpq.com in July.
"The benefits, both current and future capabilities, of EndeavorCPQ make this a game-changing place to be," said Griffith. "For mid-market companies looking to gain a true edge, CPQ increases sales, productivity and revenue, and like CRM, will become a household name. I'm excited to be in an industry and company poised for tremendous growth."
About Endeavor
Celebrating its 15th anniversary in 2015, Endeavor is a leader in cloud-based Configure-Price-Quote (CPQ) software solutions. EndeavorCPQ automates the quote-to-order process, empowering sales professionals to spend more time in front of customers and less time behind their desk. A cloud-based, go-anywhere software, EndeavorCPQ pulls data from leading CRM and ERP systems, eliminating errors and ensuring accurate backend updates. To schedule a demo or learn more, visit EndeavorCPQ.com.