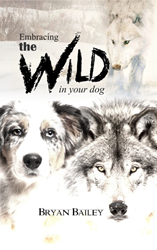 Dogs are Not Little Humans in Fur Coats...
MEMPHIS, TN (PRWEB) September 24, 2015
Some time ago, dogs became as interwoven in the American culture as baseball, apple pie and the Fourth of July. In fact, in most households, dogs have even trumped evolution itself and jumped straight to being four-legged "humans", adorned with human names, designer outfits and a place at the family dinner table. They're no longer dogs to us, they're family!
Yet, as nationally-recognized, award-winning animal behaviorist and Master Trainer Bryan Bailey explains in his new book, Embracing the Wild in Your Dog, all that man has done to carve the wolf from the wild to create a surrogate human, today's dog is still a wolf at heart, and the accompanying instincts borne from such ancestry defines how the dog approaches its world. Reflective of his extensive background — studying wolf and other predatory behaviors worldwide, working alongside law enforcement and special service dogs, training in U.S. Navy dolphin and sea lion projects, etc. — Bailey emphasizes the damaging and paralytic problem of attaching our human traits to our pets most associated with dog ownership today.
"Believing in a fairy tale world where dogs possess the same moral consciousness and sense of altruism as attributed to humans has led to a drastic increase in leash laws, dogs being outlawed in a rising number of city and national parks, some breeds being banned in several states, an alarming escalation of aggression to humans, a rising cost in homeowner and business insurance, and a record number of clinically maladaptive dogs," says Bailey. "Through Embracing the Wild in Your Dog, I hope to give readers the knowledge and tools to activate and deactivate natural impulses and mechanisms in their dog, leading to the harmonious existence and the control they've always dreamed of."
Encouraging readers not to take away the love and compassion they have for their dogs but to better understand and embrace their dog's natural instincts and behaviors, Embracing the Wild in Your Dog further reveals:

Dogs are not little humans in fur coats: dogs are domestic wolves and their behavior is still dominated by their ancestry of social predators; they should be treated as such.
Nature is always right: We should heed her lessons and examples, not man's, when inter-acting with dogs.
We must lead, or be led: social predators don't have a place for equality. We must accept our charge as the alpha of our pack in order to exist harmoniously with our dogs.
Dog aggression is here to stay: aggression can't be trained out, bred out, or medicated out.
Beginning the journey with your dog: how to begin better understanding your own dog.
"Embracing the Wild in Your Dog is about developing a deep understanding of the authors of our dog's behavior - nature and the wolf," adds Bailey. "In doing so, readers will truly learn who and what their dog really is, and the why and how of its behavior. Most of all, they'll come to embrace the wild in their dog and the grace and peace breathed into its acceptance."
Bryan Bailey is a nationally-recognized, award-winning animal behaviorist, who has shared his expertise with Dog World, At Home Mid-South Tennessee, Bloom Magazine, and Fox News, along with veterinarians, dog owners and celebrities such as John Mellencamp, James Fitzpatrick, the late Junior Seau, and Julio Jones.
Bailey's unique qualifications also include: nationally-certified Master Trainer and Pharmacotherapy Behaviorist, decorated veteran of the U.S. Navy, working extensively as a supervisor and trainer for the U.S. Navy's dolphin and sea lion projects, honor graduate of the Indiana Law Enforcement Academy with duties including training supervisor of the Monroe County Sheriff's Department K-9 narcotics detection, and search and rescue teams, and trainer for the Indiana Department of Health and Social Services to train service dogs for children with Muscular Dystrophy. He has also studied canine problem solving and pharmacotherapy at Cornell and Tufts University, wolf behavior and social dynamics at Battleground Indiana and Ely Minnesota wolf conservatories, is a certified Veterinary Technician, and has professionally shown dogs in AKC Obedience, Conformation, Schutzhund and Ring Sport.
His first book, Embracing the Wild in Your Dog, is a culmination of his experiences and expertise and will be soon followed by his second title, The Hammer – Understanding Canine Aggression. Bailey and his wife, Kira, reside in Memphis, TN, with their children, dogs, and cats. Together, they own ProTrain Memphis and Taming the Wild.
Learn more about Bailey at http://www.TamingtheWild.com.
Embracing the Wild in Your Dog is set for release on October 6, 2015 and is currently available for pre-order on Amazon and Smashwords.