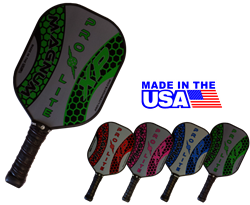 "The Magnum XP compliments my game really well allowing a solid feel on my dink shots and a lot more pop on my volleys and overheads."
Port Washington, Wisconsin (PRWEB) October 01, 2015
Pro-Lite Sports did it again. The goal was simple. Pro-Lite Sports wanted to provide pickleball players with a brand new high end paddle that exceeded their expectations. They wanted to introduce the pickleball world a paddle with controllable power and sound absorption qualities resulting in a quieter performing paddle. The Pro-Lite Magnum XP pickleball paddle is constructed of the finest-grade polymer honeycomb core along with a high-grade composite facing. With brand new micro edge technology, the Magnum XP provides a larger surface area reducing the likelihood of mishits. The classic Pro-Lite Magnum shape continues to pack a powerful punch along with a new level of control. The Pro-Lite Magnum XP is great for every level of pickleball player and excellent for indoor and outdoor play. With innovative construction and design, the Magnum XP (Xtreme Power) provides players with balance, accuracy, and control. The Magnum XP comes with an Ultra Cushion Contour grip adding extra comfort and feel. The exclusive core of the Magnum XP provides greater durability, reduces vibration, and allows for performance that is more consistent in every shot. The silver backdrop is complimented with vibrant eye popping colors and comes in weighing approximately 7.7-8.2 ounces.
The Pro-Lite Magnum XP pickleball paddle is USAPA approved and of course as ALWAYS, Made in the USA. The paddle comes in four eye-catching colors: Blue, Red, Lime Green, & Raspberry and retails at $73. Visit Pro-Lite Sports and get yours today.
prolitepaddles.com 1-888-775-9615.
Christine Barksdale, 2014 Women's Open Singles Bronze Medalist, recently reviewed the all new Pro-Lite Magnum XP pickleball paddle. She explained, "The Magnum XP compliments her game really well allowing a solid feel on her dink shots and a lot more pop on her volleys and overheads." For Christine's full review, go to https://www.youtube.com/watch?feature=player_embedded&v=fZCefYDDnGM
About Pro-Lite Sports
In business for over 30 years, Pro-Lite Sports is a proud company that is highly regarded all over the world. Their wide variety of pickleball paddles help fit all styles of players from beginner to advanced. Pro-Lite has the most balanced paddles in the industry and was the first company to produce a composite pickleball paddle.
For more information, go to prolitepaddles.com or to speak to a Pro-Lite Sports representative, please call 1-888-775-9615.