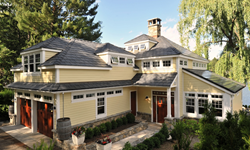 "It doesn't matter if you live in Alaska or Florida, energy efficiency is important," says Donna Contat, director of brand management for Therma-Tru.
Mills River, NC (PRWEB) September 30, 2015
Energy Awareness Month in October is the ideal time for homeowners, builders and remodelers to take a strong look at incorporating products into the home that help can save on escalating energy costs. From adding insulation in attic spaces to installing energy-efficient windows, there are many ways to save on energy bills for the home –from the ground up.
According to the U.S. Energy Department, a typical American family spends almost $2,000 each year on their home energy bills.* By conducting a home energy audit (see http:// http://energy.gov/articles/energy-saver-101-infographic-home-energy-audits) some of those costs can be reduced.
However, the real savings start when construction of the house begins. Builders using an energy-efficient precast concrete foundation can help homeowners save on energy bills during the life of the home. Foundation systems from Superior Walls® are created with DOW® Styrofoam™ or THERMAX™ insulation. The resulting wall panels provide a dry, comfortable, damp-resistant foundation for a home.
"These energy-efficient walls help lower energy costs and reduce energy leakage while providing increased living space in a comfortable setting," according to Keith Weller, CFO at Superior Walls. "Xi Plus™ panels are available with a built–in insulation value of R–21.3 and can be insulated up to R–42+."
The wall panels provide R-values that meet or exceed energy conservation values from both the IECC and the IRC, and the Xi Plus wall panels can help in the construction of an ENERGY STAR® qualified home. Superior Walls insulated precast concrete wall products are pre-qualified to earn specific green points as Green Certified Products by Home Innovation Research Labs.
Homeowners looking to replace major openings on the home – the windows and doors – should look for products that offer long-term energy savings.
Where both light and privacy are desired in the home, such as in bathrooms or master bedrooms, acrylic block windows made with ultraviolet (UV) inhibitors can be a good option for homeowners. The SunBlock™ PLUS window from Hy-Lite® limits the solar heat gain allowed to penetrate into the home through tinted UV inhibitors and infrared absorbers in the resin used to make the acrylic blocks. Ideal for warm climates, these windows can be used for both new construction and replacement, and come in operable and fixed styles.
For cooler climates, the E3 Triple Glaze block window includes an extra panel of acrylic in the center of each block to help increase the insulative power of the window. And, for the ultimate in energy efficiency, the company's E3 SunBlock™ PLUS combines the solar heat reduction of a SunBlock PLUS window with the insulative power of the E3 Triple Glaze window.
When it comes to selecting an entry door for the home, Therma-Tru® reports that their solid fiberglass doors with a heat- and cold-resistant core can have much greater insulating R-value compared to solid wood doors. More than 80 percent of the company's door and glass options are ENERGY STAR qualified, giving homeowners thousands of door choices for the home that meet one of the highest standards in the country for energy efficiency.
"It doesn't matter if you live in Alaska or Florida, energy efficiency is important," says Donna Contat, director of brand management for Therma-Tru. "Selecting a complete door system with doors and glass that are engineered to work together can give you a more energy efficient door. Parts like resilient weatherstrip that compresses when closed and creates a tighter seal around the edges, help keep heating and air conditioning sealed inside the home."
Most Therma-Tru decorative and privacy glass for doors and sidelites is triple-pane, which helps reduce the penetration of heat and cold. Factory-coated Low-E glass, available as an option, also offers exceptional energy efficiency.
Special attention should be paid to the area of the home most susceptible to the sun's powerful rays – the roof. If you're looking for a new roof, consider one that helps lower your energy bills.
According to the Cool Roof Rating Council (CRRC), a Cool Roof is one that strongly reflects sunlight and also cools itself by efficiently emitting the sun's rays to its surroundings. The roof literally stays cooler and reduces the amount of heat conducted to the structure below.
EcoBlend roofing tiles from DaVinci Roofscapes® have achieved the Cool Roof designation from the CRRC. The polymer roof tiles help reflect heat and light from the sun away from the home to help reduce the amount of energy it requires to keep the home cool. That translates into improved energy efficiency and helps the air conditioner do a better job at cooling the entire home.
ENERGY STAR compliant EcoBlend composite slate and shake roofing tile options come in eight colors including Weathered Gray (in Medium, Medium Light, Medium Dark, Light and Dark) and Gray (in Dark, Light and Medium) colors.
According to the CRRC, homeowners can recognize an average energy savings ranging from seven to 15 percent of total cooling costs by using a Cool Roof that helps reduce temperature fluctuations inside the home.
ENERGY STAR is a government program that helps consumers protect the environment through superior energy efficiency and is a registered trademark of the U.S. Department of Energy and the U.S. Environmental Protection Agency.