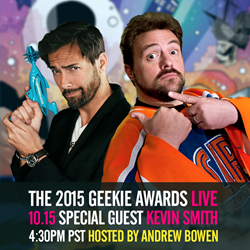 Kevin Smith is the poster child for anyone who fights hard and is dedicated to building their own career, and he's someone we all look up to when it comes to doing whatever it takes to make something cool.
(PRWEB) September 25, 2015
Kevin Smith, a longtime idol of every geek on the planet, comic book fanatic, Batman lover and all around nice guy will be honored with the first ever "Geek Pioneer" award at The 3rd Annual Geekie Awards. The show will take place at Club Nokia @ LA Live on October 15, 2015, hosted by Andrew Bowen (Summer Forever, MadTV, Magic City, MKX). The live broadcast will be streamed internationally via The Geekies UStream Channel (http://www.ustream.tv/TheGeekieAwards), using LiveU technology, from 6:30 PM – 9:00 PM PST, to include a pre-show live red carpet hosted by Kristyn Burtt (AfterBuzz) at 4:30 PM PST.
The Geekie Awards, an award show by geeks for geeks, is aimed at placing the geek culture in the spotlight as a collection of valid, respected, award-winning genres for storytelling and creation. Each year, the show opens with industry veterans receiving awards for their contributions to the culture, including Stan Lee, who received the very first Lifetime Achievement Award in 2013 (now called The Stan Lee Lifetime Achievement Award), and LeVar Burton, who received 'Geek of the Year' in 2014 for his Reading Rainbow campaign success. With two years of success under their belt, Team Geekie has been preparing for the best show yet. Kevin Smith will be the show's top recipient.
"Our show is all about creators who go to great lengths to produce incredible work that inspires the world. Most of the time, on a shoestring budget. Kevin Smith is the poster child for anyone who fights hard and is dedicated to building their own career, and he's someone we all look up to when it comes to doing whatever it takes to make something cool. For these reasons, we felt Kevin was the perfect choice for our new Geek Pioneer award," says CEO and Executive Producer Kristen Nedopak.
Describing his excitement to be hosting the 2015 show, Andrew Bowen adds, "I couldn't be more excited and honored to host the show this year. I love what the Geekies are about; giving the next generation of creators, dreamers and artists a chance be noticed and recognized when they otherwise wouldn't. All while celebrating the greatness of GEEK! The nominees and presenters this year are amazing and the show... Holy ——, just wait. It's like the last two years of "high school" were fun but we just graduated to "college". It's going to be a riotously funny and fun night."
Talent confirmed to date: Cas Anvar (The Expanse, Transformers, Argo), Katrina Law (Arrow, Spartacus), Alex Winter (The Lost Boys, Bill & Ted, SMOSH: The Movie), Richard Hatch (Battlestar Galactica), Dante Basco (The Legend of Korra, Avatar: The Last Airbender, Hook), Cody Saintgnue (MTV's Teen Wolf), Ashley Eckstein (Her Universe), Meg Turney (Nerdist, SourceFed), Ashley Jenkins (Rooster Teeth, IGN, Ubisoft), Matt Lieberman (SourceFed, AfterBuzz), Maude Garrett (SourceFed, SourceFedNERD), Bree Essrig, William Haynes (SourceFed), Kevin Grazier (Gravity), Fon Davis (BattleBots, Star Wars), Jon Schnepp (Cartoon Network), Steve Zaragoza (SourceFed, SourceFedNERD), David Coleman (Geeks Who Drink, Nerd Machine), Valenzia Algarin (Adult Swim's Black Jesus) and Courtenay Taylor (Fallout).
Tickets are on sale for the 2015 show: http://www.axs.com/events/293292 and http://www.clubnokia.com/events/detail/293292, to include exclusive front row seating to catch the live action. A celebrity VIP lounge is available for talent and red carpet arrivals. To RSVP press or talent, send a request to: publicity(at)thegeekieawards.com.
In the meantime, Nominees (http://www.thegeekieawards.com/2015-award-nominees) have been eagerly waiting to find out who will take home a trophy after nearly 100,000 public votes were tallied at the end of August. As part of their mission to help talent get discovered, The Geekies have partnered with OZ to create an event just for creators called The Day of the Creator, a soiree on October 14th from 6-11 PM poolside at Hotel Figueroa (http://www.figueroahotel.com). The event is aimed at celebrating creators in multiple industries, including digital content, music, video games, art, fashion, comic books, technology and more.
"In staying true to our mission, we're growing into a company that helps creators prosper," says Nedopak. In time, it's my dream to have a multi day event where we can provide more opportunities for these creators, interact more, and get more companies involved that share our vision. This year, we've partnered with OZ to co-create our first 'Day of the Creator' event. OZ is a perfect match as it's a company that helps creators in every industry build fan clubs, and connect with their audience more directly than ever before. You don't need to be a famous celebrity to have a fan club. Every creator has a loyal fan base, no matter how small it starts. And every creator deserves direct access to those fans. It's an exciting first step, and we're looking forward to seeing how we grow over the next few years."
The Day of the Creator will be a red carpet event open to creators at any level who are making content, music, games, art, fashion, craft and more, and who want to network, interact with nominees and show talent, or to find out more about OZ. To RSVP for this event, email your name and what you do to to: creatorRSVP(at)thegeekieawards.com.
About Oz:
OZ is a new live and video streaming platform for creators who want more control, freedom and transparency over their content, audience and revenue. OZ empowers creators with exclusive channel-style clubs that are free to set up, easy to launch and feature straightforward monthly revenue payouts. Creators set subscription pricing to fit their audience; fans subscribe directly to their favorite club and OZ then distributes that subscription revenue to the club creator each month. OZ's club creator dashboard lets creators quickly upload and organize their videos and live streams, view relevant audience metrics to better understand their club members and offers tools to communicate directly with them. Subscribed fans can capture "Moments" from live streams and videos and then share to social media, drawing in more club followers and fans. To launch your club in minutes, visit http://www.oz.com #ozcreator
About The Geekie Awards:
In an industry filled with award shows for established celebrities, The Geekie Awards honors talented, independent creators and give them the opportunity to receive recognition in front of a worldwide audience and leaders in their respective industries. The Geekie Awards inspire creativity and hope and they foster cross-market innovation among entertainment, gaming, comics, art, and fashion. Their mission is to create a fun, action-packed, unforgettable broadcast event tailored to all of the things we geeks love—delivered via the latest digital technologies.
Additional information about The Geekie Awards is available at: http://www.TheGeekieAwards.com | Facebook: https://www.facebook.com/TheGeekieAwards | Follow #GeekieAwards and #ByGeeksForGeeks http://twitter.com/TheGeekieAwards on Twitter. You can also sign up for the newsletter for updates on the event, giveaways and more (http://bit.ly/1lepJPr).
The Geekie Awards would like to acknowledge our 2015 Sponsors: OZ, Discovery Digital Networks, PepsiCo Interactive, Gunner, POW! Entertainment, WowWee, For Human Peoples, WebMovement, Wahoos, Shakey's, Hero Crate, J!NX, Encore Streaming, LiveU, GMG, Arcustech, 3d Light FX, melin, Plantronics, Inc. Special thanks to our community partners: Her Universe, We Love Fine, Geek Nation, International Academy of Web Television, LA Cosplay Con, San Diego Comic Fest, Fashionably Nerdy, and Indie Game U for helping take indie creators to the next level!