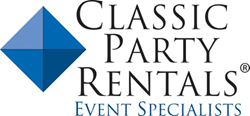 Atlanta, GA (PRWEB) September 28, 2015
Classic Party Rentals, the nation's leading event rentals and services provider, known for having the largest breadth of tenting inventory in the nation, converted Midtown at Tech Square into the city's premier food, wine, beer and cocktail festival, Taste of Atlanta. For the event, which drew in thousands of festivalgoers, Classic Party Rentals concocted the perfect mixture of over 150 festival style tents to house top chefs, renowned mixologists, craftsmen and festivalgoers alike.
"There is no better backdrop than a Classic Party Rentals tent," says Stephanie Cocumeli, Regional VP, East Coast for Classic Party Rentals. "It's incredible how transformative tenting can be to a location. The wide range of our acclaimed tenting choices used helped ensure that this Taste of Atlanta was one of the best the city has seen yet."
It took more than 20 Classic Party Rentals talented team members, over 15 trucks loads, and three days to install the tenting, lighting, tables and chairs for Taste of Atlanta. Always keeping their top of the line inventory fresh, Classic Party Rentals invested in 105 10x10 new festival tents specifically for the festival. Other tents that were featured from Classic Party Rentals' extensive inventory included 30x40, 40x50, and 40x60 gable style tents to create the festival from the ground up.
About Classic Party Rentals
As the nation's leading event rentals and services provider with over 25 locations, Classic Party Rentals is the backbone for more than 150,000 events and celebrations per year. Their network of over 2,000 award winning event professionals is renowned for providing exceptional client services with a fresh and innovative approach to handling the most important events in the country. Boasting over 9 million choices from an unparalleled range of inventory that includes exclusive furniture, china, specialty linens, lighting, heating, flooring, tenting and more, Classic Party Rentals creates events that define the most remarkable moments in time. For more information, please visit http://www.ClassicPartyRentals.com.