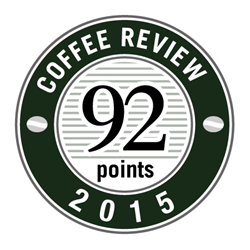 … a quietly comprehensive cup, with crisp nut and cacao notes and a softening bloom of sweet flowers.
Columbus, Ohio (PRWEB) September 26, 2015
Columbus, Ohio coffee roaster Crimson Cup Coffee & Tea recently received an outstanding 92 rating of its Wayfarer Blend from Kenneth Davids and the Coffee Review. Reviewers described the handcrafted coffee as, "… a quietly comprehensive cup, with crisp nut and cacao notes and a softening bloom of sweet flowers."
Crimson Cup's mission is to roast high-quality coffee and to help independent cafes brew and serve it better. "Our goal as roasters is to showcase the hard work of the farmers who grow awesome coffee beans," said Founder and President Greg Ubert. "Independent reviews of our coffees affirm that we're meeting this goal."
Coffee Review's blind assessment was, "Rich, round, brisk. Hazelnut, roasted cacao nib, lemon grass, sweet honeysuckle in aroma and cup. Gently and softly tart acidity; smooth, satiny mouthfeel. Hazelnut and cacao carry into a gently dry, resonant finish." The complete September 2015 review is available on the Coffee Review website.
Wayfarer is blended from a rotating selection of current-crop coffees. The blend currently has Heirloom and Bourbon varietals cultivated at elevations of 1,700 to 2,000 meters. Lightly roasted, Wayfarer Blend melds the syrupy, rich and smooth notes of tree nuts and chocolate with bright accents of exotic fruits. In 2014, Wayfarer Blend was a semifinalist in the competition for America's Best Espresso at Coffee Fest New York.
Wayfarer Blend is available at Crimson Cup Coffee Houses in Clintonville and Upper Arlington and at select independent cafes serving Crimson Cup beverages. Bags of fresh-roasted coffee can be purchased from the Crimson Cup website at a cost of $15.95 for 12 ounces.
About Crimson Cup Coffee & Tea
Founded in 1991, Crimson Cup Coffee & Tea is a leading Columbus, Ohio coffee roaster offering handcrafted, sustainably sourced specialty coffee. The company also teaches entrepreneurs to run successful coffee houses through its coffee franchise alternative program, which includes a coffee shop business plan. Crimson Cup coffee is available through a community of more than 350 independent coffee houses, grocers, college and universities, restaurants and food service operations across 29 states, Guam and Bangladesh, as well as the company's own Crimson Cup Coffee Houses. To learn more, visit crimsoncup.com.