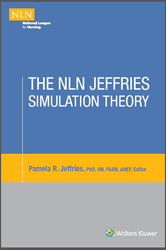 "The NLN takes pride in its role as a publisher of innovative scholarship, proven instructional models, and teaching-learning strategies for advancing the science of nursing education." NLN President Dr. Marsha Adams
Washington DC (PRWEB) September 28, 2015
A National League for Nursing tradition of publishing new works of scholarship in time for the annual NLN Education Summit continues with the release of two new titles by the NLN Press. Both will be available at the 2015 Summit, when nurse educators, deans and administrators of nursing programs, students, and health care professionals from allied organizations and health care systems will be gathered at Caesars Palace in Las Vegas, September 30-October 2.
"The NLN takes special pride in its role as a publisher of innovative scholarship and proven instructional models and teaching-learning strategies for advancing the science of nursing education, for the enrichment of this and future generations of faculty and students. The NLN Summit provides an ideal opportunity to showcase the latest work of leading scholars," observed Marsha Howell Adams, PhD, RN, CNE, FAAN, ANEF, NLN president and professor and dean of the College of Nursing at the University of Alabama in Huntsville.
The just published NLN Jeffries Simulation Theory, edited by Dr. Pamela Jeffries, grew from the 2005 "A Framework for Designing, Implementing, and Evaluating Simulations Used as Teaching Strategies in Nursing." The evolution from framework to theory represents a significant leap for simulation scholarship and the nursing education and interprofessional communities. The monograph describes the basis for the new theoretical model and its implications for educational research.
Dr. Jeffries and her team of internationally recognized nurse educators and simulation experts present a mid-range nursing theory that facilitates best practices for teaching-learning with simulation and presents models of evaluating reliability and validity under varied circumstances in academic and clinical settings. The monograph consists of five chapters, covering the history and evolution of the NLN Jeffries Simulation Theory; a systematic review of the literature for the NLN Jeffries Simulation Model; a brief, narrative description of the theory; NLN Vision Statements for teaching with simulation, and future education research; and finally, a look at future research and next steps envisioned for clinical simulation.
In Innovations in Nursing Education: Building the Future of Nursing, Vol. 3, editor Linda J. Caputi, EdD, RN, CNE, ANEF, introduces a novel framework for organizing the carefully researched, thought-provoking peer-reviewed articles that comprise this volume. Promoting innovation and excellence in nursing education, topics covered align with the foci of five of the seven NLN Centers for Nursing Education. The centers whose programs and activities are highlighted in Innovations, Vol. 3 are:

NLN/Chamberlain College of Nursing Center for the Advancement of the Science of Nursing Education
NLN Center for Assessment and Evaluation
NLN Center for Excellence in the Care of Vulnerable Populations
NLN Center for Transformational Leadership
NLN Center for Innovation in Simulation and Technology
"I am so pleased that Dr. Caputi chose to arrange the chapters to correspond with the work of the NLN centers, work that benefits nurse educators, as well as our students and the millions of patients nurses care for over the course of our professional lives," remarked NLN CEO Beverly Malone, PhD, RN, FAAN.
See a complete listing of NLN Press publications available through the NLN Bookstore.