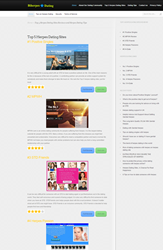 Only for Herpes
LA, CA (PRWEB) September 28, 2015
28th September, 2015: Biherpesdating.com, the leading herpes dating information providing website, will now be offering a completely new and updated version of dating content and tips to people suffering from herpes. The site will now provide dating tips only for those diagnosed with herpes. This move by the website will help Herpes people in searching as well as interacting with other like-minded individuals and share their feelings and emotions with them.
Talking about the revamp, a spokesperson at Biherpesdating.com stated, "We have exclusively revamped our portal to provide individuals suffering from herpes with a perfect platform to identify and associate with some of the best and leading herpes dating sites. Our site will also help them acquire appropriate herpes dating advice, tips and content, which will further assist them in finding similar minded partners and spend some quality time with them."
It must be noted that Biherpesdating.com is highly reputed website that offers an insight and in-depth analysis of some of the top herpes dating sites. Those suffering from herpes often feel dejected and neglected under the assumption that nobody would love or appreciate them. Biherpesdating.com will provide them with a great deal of support and assistance by providing them with suitable dating suggestions and fresh new herpes dating content.
The website has already reviewed a host of herpes dating websites such as Positive Singles, MPWH, STD Friends, Herpes Passions and H-Date among others. The website helps hundreds and thousands of Herpes singles diagnosed with herpes with their ideal and desired dating partners. Herpes singles can find out some of the best dating websites and create their profiles to search for several other attractive herpes individuals and share their inner desires and feelings with them. These websites will provide people suffering from with great deal of opportunity to connect and establish a long-term relationship with them.
Biherpesdating.com offers 100% authentic and reliable dating website reviews to help people make informed and appropriate choices. The website also believes in keeping their user's personal information and details private and confidential. For more information regarding herpes dating, visit http://biherpesdating.com/ today!
About Biherpesdating.com
Biherpesdating.com was designed to assists singles suffering from herpes in meeting and associating with other like-minded individuals. The website also offers links to other leading herpes dating portals, which provides them with a host of dating related information and updates.