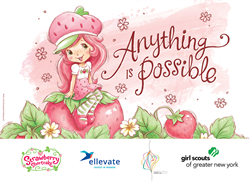 As a brand that has always shared the message with young girls that 'Anything is possible,' we are thrilled to be a primary sponsor of this important and inspiring conference
New York, NY (PRWEB) September 28, 2015
Hundreds of New York City businesswomen and their young daughters, sisters, nieces, cousins, and friends will gather on Saturday, October 3 in New York City when Ellevate Network, L'Oreal USA, Strawberry Shortcake, and the Girl Scouts of Greater New York, host the first-ever "#AnythingIsPossible When You #InvestInGirls and #InvestInWomen" conference at the Metropolitan Pavilion. This family-friendly celebration—being held in anticipation of the U.N.'s "International Day of the Girl" on October 11—will launch a conversation about the issues young girls face today and what society can do to prepare them for careers and workplace leadership. It is open to the public; tickets are $15 for adults and kids can attend for free.
The day will feature fireside chats among members of the Girl Scouts of Greater New York and thought leaders who represent each stage of a girl's life from childhood through their professional years. These conversations will look at the positive influences and communities that support and empower girls and women throughout their lives. In addition, an entertainment room sponsored by Strawberry Shortcake will host apps, games, and toys for the young girls in attendance.
Speakers include Barbara Murphy-Warrington, CEO of the Girl Scouts of Greater New York; Rachel Weiss, Vice President of Innovation and Entrepreneurship of L'Oreal USA; Dr. Dorita Gibson, Deputy Chancellor of New York City schools; Sallie Krawcheck, owner and Chair of Ellevate Network and one of Fast Company's "100 Most Creative People 2014"; and Noemie Dupuy, co-founder and CEO of Budge Studios, a global leader in children's apps, including the new Berry Fest Party Strawberry Shortcake app, out this September.
"As a brand that has always shared the message with young girls that 'Anything is possible,' we are thrilled to be a primary sponsor of this important and inspiring conference," said Leigh Anne Brodsky, Managing Director of Iconix Entertainment, which owns the Strawberry Shortcake brand. "The day will include important conversations about everything that young and grown women can achieve, and we're delighted to provide a special space for the youngest participants in the day's events."
"This is an exciting time for women of all ages, who have more opportunities than ever before—and yet we still have so far to go," said Sallie Krawcheck of Ellevate. "We look forward to empowering our audience to share the message that investing in girls and women is perhaps the smartest move we can make to ensure our country's continued growth and prosperity."
L'Oreal understands the importance of supporting consumers through national and global programs. Since 1998, the company's For Women in Science program has recognized and rewarded more than 2,000 female post-doctoral scientists in over 100 countries for their contributions in STEM fields and for the last decade, the company's flagship brand, L'Oreal Paris, has celebrated extraordinary women in the U.S. for their innovative approaches to tackling significant issues and hardships in their local communities.
This event will also serve to kick off Strawberry Shortcake's new brand initiative "Anything is Possible," which encourages young girls to believe in their ability to achieve their dreams. In celebration of this yearlong campaign, Strawberry Shortcake will premiere their new Anything is Possible video, produced as a part of the brand's relationship with Tongal, the crowdsourced production company. Throughout this event and over the next 12 months, Strawberry Shortcake is encouraging mothers, young women, and girls to share what their #AnythingisPossible dream is on social media.
To register for the event, visit:
https://www.eventbrite.com/e/anything-is-possible-for-girls-women-tickets-18562629324
The Creative Forces
Ellevate Network is a global professional women's network dedicated to the economic engagement of women worldwide. The most expansive and diverse network of its kind, the Ellevate community is made up of successful, motivated and passionate women from various industries and walks of life—groundbreakers, thought leaders, CEOs, entrepreneurs, board members, visionaries, alumnae and students of some of the world's leading academic institutions—with one common belief: that investing in themselves and in other women is good business.
L'Oréal USA is the largest subsidiary of the L'Oréal Group, the worldwide leader in beauty. L'Oréal USA manages a portfolio of 30 iconic beauty brands, including Carol's Daughter, Clarisonic, Essie, Garnier, Giorgio Armani Beauty, Kérastase, Kiehl's, Lancôme, L'Oréal Paris, Matrix, Maybelline New York, NYX, Redken, Urban Decay and Yves Saint Laurent Beauté. In addition to its corporate headquarters in New York City, L'Oréal USA has research, manufacturing and distribution facilities across 13 other states including Arkansas, California, Florida, Kentucky, New Jersey, Ohio, Texas and Washington with a workforce of more than 10,000 employees. For more information, visit http://www.LorealUSA.com or follow on Twitter @LOrealUSA.
Strawberry Shortcake is the iconic girl-powered brand created 38 years ago when Muriel Fahrion illustrated a freckled, red-haired young girl and her cat, Custard. Throughout the 80s, Strawberry became a must-have for young girls across the United States, with toys, games, dolls and TV specials featuring Strawberry and her sweet companions. In the past 25 years, Strawberry Shortcake has extended beyond TV to toys, books, fashion, and more. Moms who grew up with Strawberry Shortcake are able to enjoy her again, co-viewing with their children while connecting with her original heritage.
Strawberry Shortcake has always stood for adventure and imagination, and a new focus on girl empowerment brings her to the forefront of contemporary girls' real-life aspirations. The goal of Strawberry Shortcake's "Anything Is Possible" campaign is to build confidence and inspire girls to be tomorrow's leaders.
The Girl Scouts of Greater New York is New York City's largest girls-only youth and leadership development organization. Over 29,000 girls representing almost every zip code participate in the organization's programs, learning to lead with courage, confidence, and character to make their communities and the world a better place. And over 8,000 volunteers help them along their journey. The Girl Scouts of Greater New York offers a wide range of Girl Scout activities in public and private schools, public housing, and community-based organizations, offering many pathways to help girls grow into leaders.
About Iconix Brand Group, Inc.
Iconix Brand Group, Inc. owns, licenses and markets a growing portfolio of consumer brands including: CANDIE'S (R), BONGO (R), BADGLEY MISCHKA (R), JOE BOXER (R), RAMPAGE (R), MUDD (R), MOSSIMO (R), LONDON FOG (R), OCEAN PACIFIC (R), DANSKIN (R), ROCAWEAR (R), CANNON (R), ROYAL VELVET (R), FIELDCREST (R), CHARISMA (R), STARTER (R), WAVERLY (R), ZOO YORK (R), SHARPER IMAGE (R), UMBRO (R), LEE COOPER (R), ECKO UNLTD. (R), MARC ECKO (R) and STRAWBERRY SHORTCAKE (R). In addition, Iconix owns interests in the ARTFUL DODGER (R), MATERIAL GIRL (R), PEANUTS (R), ED HARDY (R), TRUTH OR DARE (R), BILLIONAIRE BOYS CLUB (R), ICE CREAM (R), MODERN AMUSEMENT (R), BUFFALO (R), NICK GRAHAM (R) and PONY (R) brands. The Company licenses its brands to a network of leading retailers and manufacturers that touch every major segment of retail distribution from the luxury market to the mass market in both the U.S. and worldwide. Through its in-house business development, merchandising, advertising and public relations departments, Iconix manages its brands to drive greater consumer awareness and equity.