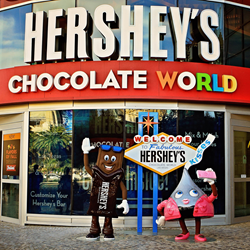 Las Vegas, NV (PRWEB) September 29, 2015
Two specially designed Kiss and Hershey character statues along with a "Hershey-ized" version of the iconic "Welcome to Las Vegas" sign have been permanently installed in front of the store, offering guests an opportunity to pose for one-of-a-kind photos. A photo here can be used in-store and added to a customized candy bar in the Wrap Happiness area or shared with friends on social media. The character statues are the newest addition to Hershey's Chocolate World Las Vegas' exterior, which also features a 74-foot high Hershey's Milk Chocolate Bar entranceway, illuminated Hershey's Kisses Milk Chocolates, and a giant Reese's Peanut Butter Cup.
"Las Vegas is a lively city and we're excited to be giving guests a chance to capture some unique Hershey memories along the Strip. Hershey's Chocolate World Las Vegas is a one-of-a-kind retail experience and now with the Kiss and Hershey character statues, guests have the chance to take home fun and unique photos and products, which can also be shared with friends on social media," says Blair Ford, General Manager of Hershey's Chocolate World Las Vegas.
Hershey's Chocolate World Las Vegas is a unique 13,000 square-foot interactive retail store located inside the New York-New York Hotel & Casino along the famous Las Vegas strip. The store features exclusive Hershey products and merchandise, an 8 foot-tall Twizzlers Statue of Liberty, a second Statue of Liberty made entirely of solid Hershey's Milk Chocolate, two walls of Hershey's Kisses and Jolly Rancher candy dispensers, and a sweet shop filled with decadent baked items and dipped treats using delicious Hershey products. For more information, visit HersheysChocolateWorldLasVegas.com and join the conversation on Facebook, Instagram and Twitter.
About The Hershey Experience
The Hershey Experience is the direct-to-consumer and experiential marketing division of The Hershey Company including Hershey's Chocolate World Attractions in Hershey, Pennsylvania; Times Square; Chicago; Niagara Falls, Canada; Shanghai, China; Dubai, Singapore, and Las Vegas. The Hershey Experience also includes Hershey's Licensed Food and Merchandise and Hershey's e-commerce initiatives. Hershey's Chocolate World Attraction in Hershey, Pennsylvania is the flagship experience for The Hershey Company and is the most visited corporate visitor experience in the world, featuring Hershey's Chocolate Tour, Create Your Own Candy Bar, Chocolate Tasting Experience, 4D Chocolate Mystery and the World's Largest Hershey's Candy Store. HersheysStore.com is the online destination for unique chocolate products, gifts, apparel and collectibles. In addition, The Hershey Experience operates retail and e-commerce businesses for Hershey's premium chocolates, including Scharffen Berger and Dagoba brands.
About The Hershey Company
The Hershey Company (NYSE: HSY), headquartered in Hershey, Pa., is a global confectionery leader known for bringing goodness to the world through its chocolate, sweets, mints and other great-tasting snacks. Hershey has more than 22,000 employees around the world who work every day to deliver delicious, quality products. The company, which has more than 80 brands around the world that drive over $7.4 billion in annual revenues, includes such iconic brand names as Hershey's, Reese's, Hershey's Kisses, Jolly Rancher, Ice Breakers and Brookside. Hershey is focused on growing its presence in key international markets while continuing to build its competitive advantage in North America. Additionally, Hershey is poised to expand its portfolio into categories beyond confectionery, finding new ways to bring goodness to people everywhere.
At Hershey, goodness has always been about more than delicious products. For 120 years, Hershey has been committed to good business by operating fairly, ethically and sustainably to make a positive impact on society. This means contributing to a better life for its employees, consumers, communities, and ultimately, creating a bright future for children in need. This commitment is exemplified by Milton Hershey School, established in 1909 by the company's founder and administered by Hershey Trust Company. The children who attend the school receive education, housing, and medical care – thriving as direct beneficiaries of The Hershey Company's success.