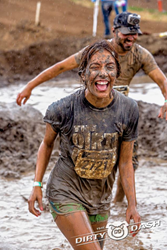 People can run, walk, jog or crawl through this 5K turned playground
Salt Lake City, UT (PRWEB) September 29, 2015
Another epic season closes for the Dirty Dash. The filthy fun run travels the US to prove that anyone can play dirty. This summer, families and friends waded through mud pits, climbed over hay bales, and navigated devilish obstacles.
"We are already looking forward to 2016," said Dirty Dash event director Ryan Creighton. "Next year will bring more mud and new obstacles."
This season thousands of racers all over the country got down and dirty. Now that the 2015 tour is finished, event organizers are making plans for 2016. The schedule includes events in Colorado, Oregon, and Utah, among others locations.
Unlike other mud runs, the Dirty Dash is accessible to those of all ages. Participants slide into mud-filled trenches, step through tires, and climb up cargo nets, but all obstacles are optional. If participants cannot face the notorious Pork's Peak or want to forego the Rinse Cycle, they can simply evade it, and try the next mud-drenched contraption along the course.
"The Dirty Dash is a mud run for everyone! People can run, walk, jog or crawl through this 5K turned playground," said event owner John Malfatto. "It is not an event you need to train for. Anyone can come out and embrace their inner child."
The Dirty Dash is excited to bring the event to even more filthy racers in 2016. Registration for 2016 events will open early next year. Learn more about the Dirty Dash at http://www.thedirtydash.com, or see what fans have to say on their Facebook page here: https://www.facebook.com/TheDirtyDash.
About the Dirty Dash
Since 2010 filthy participants have sloshed through this playground. Participants climb over obstacles and wade through mud pits at this family-friendly event designed for participants of all ages and abilities. With each year, The Dirty Dash debuts new obstacles and more mud for thousands of smiling participants.