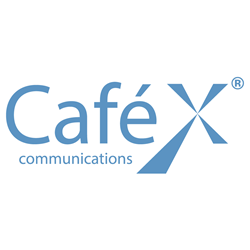 I am honoured to join this highly innovative organization, helping clients realize the benefits of digital engagement
London, England (PRWEB UK) 29 September 2015
CafeX Communications®, a leading provider of real-time engagement solutions for mobile and web platforms, announced that Dave Phillips has joined the organization as managing director. In this capacity, he is responsible for CafeX's business development, sales and marketing initiatives in Europe, the Middle East, Africa, Asia, and the Pacific Region.
Phillips, who is based in London, comes to CafeX after spending the last ten years with Avaya. During this time, he worked on a number of technology and CRM initiatives, culminating in his selection to oversee Avaya's transformative customer experience initiatives in 2012. In this capacity, he played a pivotal role in developing and marketing Avaya's successful customer experience solutions in Europe. Prior to joining Avaya, Phillips worked in senior positions at Dataforce Group, Ltd., a British-based CRM provider.
CafeX is a leading provider of real-time omnichannel customer engagement technologies, boasting a customer list that features many top Global 2000 companies within financial services, insurance and healthcare among other industries. In his role as managing director, Phillips will oversee the company's aggressive go-to-market initiatives, including channel and partner recruitment, marketing, business development, and sales. He will also spearhead CafeX's participation at major industry trade shows, including IP EXPO in London in October, the Call Center and CRM Conference in Tokyo in November, and WebRTC Expo in Paris in December.
SUPPORTING QUOTES
Nick Adams, vice president worldwide sales and field operations, CafeX
"We are delighted that Dave Phillips has joined our team as managing director. His broad background in customer engagement solutions, combined with significant successes on the commercial side of the business, make him the ideal person to lead our efforts in the global marketplace. CafeX has already developed a loyal and distinguished customer base in North America, and we are confident that Dave's efforts will help us continue this growth trajectory by expanding into new territories and serving an even broader array of enterprise customers."
Dave Phillips, managing director, CafeX
"CafeX is redefining how business users interact with each other and with customers. Some of the largest companies in the world trust CafeX to deliver personalized collaboration experiences within applications. I am honoured to join this highly innovative organization, helping clients realize the benefits of digital engagement through a proven methodology that emphasizes simplicity, continuity and reuse of existing technology investments."
About CafeX
CafeX creates software that makes it simple for companies to transform digital engagement. Recently cited as a Gartner Cool Vendor for Unified Communications, CafeX powers contextual collaboration for websites and mobile applications in an Omnichannel environment to increase customer satisfaction and loyalty. CafeX enhances emerging WebRTC technology to create seamless in-app communication experiences across device platforms. In just two lines of code, businesses can embed video chat, co-browse, file share and other personalized engagement capabilities within applications. Enterprise integration software works with leading collaboration and contact center systems to unify the customer journey and protect existing IT investments. For more information about CafeX, please visit http://www.cafex.com or follow @CafeXComms.
##
CafeX Communications, CafeX Fusion, and Live Assist are trademarks of CafeX Communications, Inc. All other trademarks are the property of their respective owners.