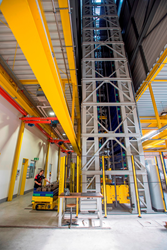 Westbrook, ME (PRWEB) December 09, 2015
The storage tower now soaring high above the Paul Henke company building in the East Westphalian town of Löhne (Germany) can be seen for miles. Three new Towermat storage lifts from Intertex are located within the 78' high tower. Around 3,000 tools used in Paul Henke's injection molding production processes are stored and retrieved here. The weight of the individual tools ranges from 50kg to 1.5 metric tons. One Towermat carrier unit can hold up to five metric tons; the three storage towers can accommodate up to 915 metric tons between them – all on a footprint of just 592 square feet. "We literally went through the roof to create more space," explains Thomas Wittenbreder, technical operations manager at Paul Henke.
A centrally operated stacking crane in the Towermat fetches the heavy parts from their storage space in the tower and automatically conveys them to the bottom – operating on the "goods to person" principle – directly to the operator at an ergonomic height. The injection molding tools are removed with the help of a hall crane and transported to the injection molding production area, where they are set up on the machines for each job. In the Paul Henke production halls, countless cover caps, panel holders, shelf studs, drawer slides and furniture feet are made every year out of 7,000 metric tons of plastic. The company's main product are kick plates for the kitchen industry. Paul Henke produces are 55 million of these systems annually.
"Previously we had to cover long distances to retrieve the right tools from the warehouse for a job. Nowadays we get the right tool at the touch of a button. From then on, it only takes an hour to make the finished product," says Wittenbreder.
Tool supply close to the production halls
Diversification among kitchen manufacturers also means a growing range of products at Paul Henke. To this end, 100 new injection molding tools are made every year in the tool making department. To ensure the employees have quick access to all the parts needed for new components and maintenance, a Shuttle Vertical Lift Module (VLM) from Kardex Remstar has been installed close to the work benches. This storage system is designed to hold light parts weighing up to 550lb per tray.
Greater Flexibility In Production
Besides the tool VLMs, Paul Henke also uses other systems from Kardex Remstar. In the paint department 7,000 different colors are kept in two VLMs to allow the company to react quickly to changing future trends. Two further VLMs in the quality assurance department hold samples of all the parts produced.
"The storage solutions from Kardex Remstar and Intertex not only save us a great deal of space, but have also made our processes much more efficient," says Thomas Wittenbreder. The operations manager already has further improvements in mind. With storage systems from Kardex Remstar and Intertex, Paul Henke sees itself as well-equipped for further growth of the business. The space for a fourth Towermat has already been reserved.
Kardex Remstar, LLC, a company of the Kardex Group is a leading provider of automated storage and retrieval systems for manufacturing, distribution, warehousing, offices and institutions. For information about our dynamic storage solutions, call 800-639-5805 or visit http://www.kardexremstar.com.