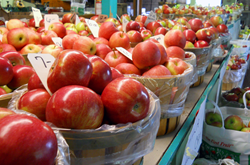 Best Foodie Festivals in Western North Carolina
Asheville, North Carolina (PRWEB) September 29, 2015
Golden Supreme, Granny Smith, and Red Delicious are just a few of the varieties of apples that will be ready for the picking at the 32nd Annual Waynesville Apple Festival. The mere thought of fall just conjures up images of biting into a crisp apple, just picked from the tree and bursting with flavor and freshness. Downtown Waynesville will roll out the red carpet for this one-day festival to be held on Saturday, October 17th from 10am - 5pm. The festival has become the region's premier juried arts and crafts event in celebration of all things Apple.
The 32nd Annual Waynesville Apple Festival is jam packed with fun, interesting feature exhibits and of course, lots of food. More than 40,000 people, including visitors from all over are expected to attend this event. Merchants will show festival goers all of the wonderful ways to prepare and serve apples, while arts and craft vendors, along with entertainers will keep the fun going throughout the day. The fall festival is very popular with residents of the North Carolina mountain communities.
Here's the live entertainment planned for this year at one of the best NC mountain events:
10:30 – 11:15 Bobby & Blue Ridge Tradition
11:15 Green Valley Cloggers
11:30 – 12:30 Bobby & Blue Ridge Tradition
12:15 Green Valley Cloggers
1:00 – 2:00 Simple Folk
2:00 Southern Appalachian Cloggers
2:15 – 3:00 Simple Folk
3:15 Southern Appalachian Cloggers
3:30 – 4:30 Whitewater Bluegrass
From the beautiful Blue Ridge Parkway hikes to watching the leaves change colors, fall is a wonderful time to visit Waynesville. The town of Waynesville also holds a special place among the residents of North Carolina mountain communities. Waynesville, which is affectionately known as the spill over of Asheville, is a favorite destination for Baby Boomers.
The town's vibrant Main Street is known for its restaurants, breweries, boutiques and lively art scene. And the surf and sand of nearby beaches is just a short drive away. It's no wonder seniors looking to relocate or buy a mountain vacation home find Waynesville NC real estate perfect for their all-around needs. And with several mountain style communities surrounding the area, there's plenty of neighborhoods to choose from near the NC mountain events.
Balsam Mountain Preserve is among the popular North Carolina mountain communities that offers baby boomers a superior living experience. Nestled in the West North Carolina Mountains this estate sits on more than 4,000 acres of land. Residents here enjoy and delight in living in an area that highlights nature's beauty. Outdoor enthusiasts can enjoy walking along 30 miles of trials. But there's so many other amenities to choose from that it may be difficult. From golfing, to horseback riding and bird watching, if you're a naturalist, who lives to be outdoors, this may be the Waynesville, NC real estate option to choose. Plus, when the weather gets too cold, if that's even such a possibility for outdoor enthusiasts, there are indoor options like tennis, swimming and a 24-hour fitness center.
Another favorite mountain community among Baby Boomers is Sunset Falls at Bald Creek. The beautifully built homes of Sunset Falls at Bald Creek span across 300-acres of land. Waynesville NC real estate owners in the gated community are fortunate because of the proximity of this neighborhood to many of the state's attractions. The private neighborhood is located less than 15 minutes from downtown Waynesville. The Blue Ridge Mountains overlook it. But that's not all. The master planned community caters to residents who enjoy the great outdoors all year round. Whether it's rafting, biking, skiing, snowboarding or a hike on the Blue Ridge Parkway, it's all located within minutes of the Waynesville NC real estate development.
Fall is a wonderful time to take a trip to Waynesville, North Carolina. Head over to the 32nd Annual Waynesville Apple Festival, and pick up a few recipe ideas on how to prepare this favorite fall fruit while there. After enjoying some tasty apple treats, try a Blue Ridge Parkway Hike. It's a great way to see more of what Waynesville has to offer during one of the best NC mountain events.
About Real Estate Scorecard:
Real Estate Scorecard writes unbiased real estate reviews providing in-depth information about popular gated communities in Florida, Georgia, the Carolinas, Tennessee and Central America, all in an effort to help people discover where to retire in the South.
Website: http://realestatescorecard.com