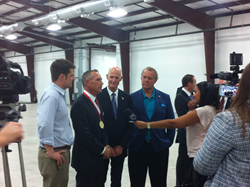 Bay State Cable Ties is disproving the myth that manufacturing is dead in America.
Crestview, FL (PRWEB) September 29, 2015
Bay State Cable Ties, America's leading manufacturer of nylon cable ties, welcomed honoraries including Florida Governor Rick Scott, Florida Representative Matt Gaetz, and Florida Representative Doug Broxson at a ribbon-cutting on September 24 that celebrated the opening of a new 20,000-square-foot building at its manufacturing facility in Crestview, Florida. The expansion will create 40 new jobs, brings the total square footage of the Bay State Cable Ties plant to 75,000, and will have a more than $16 million capital investment in the local community.
"It is a privilege and honor to have Governor Scott here today," said Bay State Cable Ties CEO and Founder Robert Sires in his opening remarks. "When I made the decision to relocate this business in 2004, I talked with the Governor, and he was extremely supportive. We chose Florida over several other states because of their business-friendly policies, and what you see today—our growth from 4,000 square feet to 75,000 square feet in just over a decade—is the result of a strong government and private business partnership made possible by Governor Scott, Enterprise Florida, the Economic Development Council of Okaloosa County, Career Source Okaloosa Walton, and local officials. This new building enables us to further expand and enhance production so we can grow our ability to meet customer needs, and will allow us to double the size of our company in the next 5 years. It is so important to create jobs here in America; we remain committed to American manufacturing, and look forward to continued success and growth here in Florida."
Governor Scott said, "I am excited to announce that Bay State Cable Ties will be creating new jobs for families in Crestview. While Bay State Cable Ties considered relocating to other states, they ultimately chose to expand in Florida because Bay State Cable Ties knows Florida is the best place for their business." He congratulated the Bay State Cable Ties team and presented CEO Robert Sires with the Governor's Business Ambassador medal.
"Bay State Cable Ties is disproving the myth that manufacturing is dead in America," said Okaloosa County Commission Chairman Nathan Boyles. "Their success is proof positive that America, Florida, and even Okaloosa County can be competitive in an increasingly globalized manufacturing market."
Bay State Cable Ties is America's leading manufacturer of nylon cable ties. Located in Crestview, Florida, our state-of-the-art facility operates 24/7/365 and boasts the most advanced production processes in the U.S. We offer an extensive line of cable ties in a variety of lengths, tensile strengths, and colors, plus accessories such as mounting pads and cable clamps. Bay State Cable Ties' specialty products include EZ- Off™ ties, releasable ties, custom-printed ties, and HVAC duct straps. All cable ties use virgin nylon 6/6 to guarantee superior quality and are UL Listed and Mil-Spec approved. We maintain a full inventory of all cable ties for Just-in-Time delivery to our national distributor network. Bay State Cable Ties is committed to continuous improvement in quality and service in all areas. We focus on customer success as well as satisfaction, and all Bay State Cable Ties products are backed by a 100% satisfaction guarantee. For more information, call 1-888-463-3454, visit http://www.BayStateCableTies.com, or find us on Facebook.