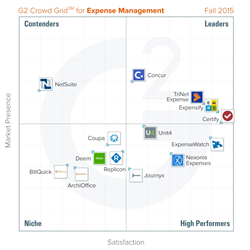 CHICAGO, IL (PRWEB) September 29, 2015
The updated GridSM report for expense management tools, published today by business software review site G2 Crowd, ranks 15 products to help purchasers in their software selections. Expensify, Certify, TriNet Expense and Concur were named Leaders in the report, receiving strong customer satisfaction scores with a large market presence. Additionally, ExpenseWatch, Nexonia Expenses, UNIT4 Travel & Expenses and Journyx were named High Performers, earning strong customer satisfaction marks with smaller market presence scores. Certify earned the highest overall Satisfaction score while Concur earned the highest overall Market Presence score.
The Fall 2015 GridSM report is based on more than 1000 reviews written by business professionals. Of the roughly 70 products listed in G2 Crowd's Expense Management Software category, the ranked products each received 10 or more reviews to qualify for inclusion on the GridSM.
The GridSM, created from G2 Crowd's software review platform, factors in customer satisfaction reported by users, along with vendor market presence determined from social and public data to rank products. Based on a combination of these scores, each software solution is categorized as a Leader, High Performer, Contender, or Niche.
Key findings revealed that when it comes to choosing an expense management software cloud is king – the top six expense management products are deployed exclusively in the cloud. Additionally, expense management products boast an above average ease of use rating of 86 percent satisfaction and a high rate of adoption – above the 80th or 90th percentile for most products.
Across all expense management platforms, reviewers reported the product they use meets their requirements at an average of 86 percent, and on average reviewers say they were 82 percent likely to recommend the product they use. Products appearing on the Expense Management GridSM for the first time are TriNet Expense, Coupa Expense Management, and Deem.
The Fall 2015 report also includes GridsSM representing reviewer company size segments: Small Business (50 or fewer employees), Mid-Market (51 to 1,000 employees) and Enterprise (1,001+ employees). The Leaders and High Performers for each segment are:
GridSM for Expense Management (Small Business):
● Leaders: Expensify, TriNet Expense
● High Performers: Certify, Nexonia Expenses
GridSM for Expense Management (Mid-Market):
● Leaders: Certify, TriNet Expense
● High Performers: Expensify, ExpenseWatch, Nexonia Expenses
GridSM for Expense Management (Enterprise):
● Leaders: Certify, Concur, UNIT4 Travel & Expenses
● High Performers: ExpenseWatch
Some highlights from expense management reviews on G2 Crowd:
"Concur is a great expense management tool for organizations. Also, with launch of Concur Breeze, it will cater to the needs of small and medium businesses as well."

Tapan J., Senior Analyst at dunnhumby
"[Expensify's] Smart Scan feature lets me take an iPhone photo of a receipt and it extracts the dollar value. Then I can easily import the receipt into my expense report. It just works. I find that I get my expense reports done faster and in a more timely manner because it's just so easy."

Will W., CMO at SteelBrick
"I have used a number of travel expense systems over the years and Certify is one of the most accessible to a traveler. The tools to capture receipt images and link them to a report make tracking things very easy – and reduces the hassle of keeping track of all those paper receipts over the course of a trip."

Bryan B. Senior Project Manager at ImageSoft, Inc.
"TriNet Expense is a very functional product. Using the product will achieve the goals it was created for. The user interface is straight forward and menu items make sense. Slight learning curve, but not enough to discourage users. Very nice product."

Chandler L., Software Developer at innoWake International, Inc.
"UNIT4 Travel & Expenses is extremely easy to use and administer. It's intuitive user interface and general ease of use makes for an efficient and effective system that everyone seems to be happy with."

Erik S., Business Systems Administrator at Cameron
Premium research on expense management tools can be purchased on the G2 Crowd website for $599. This offers the original data for filtering and weighting, as well as individual profiles of each platform with the most helpful positive and negative reviews, detailed company information, user satisfaction ratings, feature scores and customer metrics. Future refreshes of the GridSM will provide updated rankings based on the latest reviews and social data.
Be sure to check out the new GridSM for expense management product analysis and subscribe to the premium research.
_______________
About G2 Crowd, Inc.
G2 Crowd, the world's leading business software review platform, leverages its 41,000-plus user reviews to drive better purchasing decisions. Technology buyers, investors, and analysts use the site to compare and select the best software based on peer reviews and synthesized social data. Co-founded by the founder and former executives from SaaS leader BigMachines and backed by roughly $12 million in capital, G2 Crowd aims to bring authenticity and transparency to business technology research. For more information, go to G2Crowd.com.