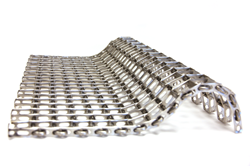 "PacLite represents our attention to detail in working with manufacturers to account for the total cost of ownership of conveyor belts used in their plants," Bob Maine, Cambridge Engineered Solutions Director of Engineering
Cambridge, Maryland (PRWEB) September 29, 2015
Cambridge Engineered Solutions has introduced PacLite, a new lighter weight, flatwire conveyor belt with variable openings that is ideally suited for three segments of the food processing industry: Packaging, baking and rock traps used for root crops.
Manufactured using a new proprietary process developed by the company's engineers, PacLite is 30-50 percent stronger than a standard flatwire belt and weighs 10 percent less than its predecessor, PacTitan®.
"Since our inception, Cambridge has excelled at working to continuously improve the design and durability of our conveyor belts to solve the operational challenges our customers face including safety and hygiene, cleaning and maintenance and energy efficiency," said Bob Maine, Cambridge Director of Engineering. "PacLite represents our attention to detail in working with manufacturers to account for the total cost of ownership of conveyor belts used in their plants."
PacLite's weight, strength and open area make it particularly suited for:

Packaging during can washing processes for foods and beverages
Baking ovens where breads, cakes and other larger goods require pans for movement along the processing line
Rock traps where dirt, stones, stems, and debris need to be separated from root crops like potatoes, carrots and beets
PacLite is available in both standard and heavy-duty versions and features Cambridge's NokLokTM picket technology, a proprietary form of perfect and interlocking links that increases strength, durability and product stability and reduces belt stretch and distortion.
Technical Specs:

Width: To 256" (650 cm)
Speeds: To 250fpm (76m)
Temperatures: To 1,000° F (538° C)
Metal: T316LSS, WRSS, T304SS, HCS or Galv.
Visit http://www.cambridge-es.com for additional information on PacLite and other Cambridge belts.
###
About Cambridge Engineered Solutions
A division of Cambridge International, Cambridge is the world's largest metal conveyor belt manufacturer and a global leader in filtration screens. For more than a century, Cambridge has developed dynamic solutions, revolutionizing industry automation and plant operations. With more than 15 exclusive product lines and over 50 patents, our team of dedicated engineers and experts continually devise new methods to make lines run smoother, faster and handle more product weight. For information visit http://www.cambridge-es.com.