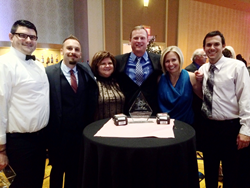 Giving back is a core value at Crimson Cup, and we look forward to a continuing partnership with Cancer Support Community Central Ohio. - Greg Ubert
Columbus, Ohio (PRWEB) September 29, 2015
Cancer Support Community Central Ohio has honored Crimson Cup Coffee & Tea with its 2016 Corporate Partner Award. The award, which recognizes leadership, vision and dedication, was presented Sept. 18 at the organization's annual Night of Chocolate fundraiser.
"We're incredibly honored to receive this award," said Crimson Cup Founder and President Greg Ubert. "Giving back is a core value at Crimson Cup, and we look forward to a continuing partnership with Cancer Support Community Central Ohio."
A leading Columbus, Ohio coffee roaster, Crimson Cup is the roasting partner for Grounds for Hope® coffees. Available exclusively at central Ohio Giant Eagle stores, the Grounds for Hope® line includes three organic roasts and a seasonal blend:

Organic House Blend, which boasts a smooth, nutty flavor with beans from Central America, Indonesia and Africa.
Organic Dark Roast, with its intensely rich and full flavor, originates in Central America and Indonesia.
Organic Decaf, a decaffeinated version of our House Blend, can be enjoyed day or night.
Seasonal Blend is creamy and sweet, flavored with cinnamon and cinnamon sticks.
Each bag sold generates a $3 donation for Cancer Support Community to support community-based, comprehensive services for central Ohioans with cancer and their families.
About Crimson Cup Coffee & Tea
Founded in 1991, Crimson Cup Coffee & Tea is a leading Columbus, Ohio coffee roaster offering handcrafted, sustainably sourced specialty coffee. The company also teaches entrepreneurs to run successful coffee houses through its coffee franchise alternative program, which includes a coffee shop business plan. Crimson Cup coffee is available through a community of more than 350 independent coffee houses, grocers, college and universities, restaurants and food service operations across 29 states, Guam and Bangladesh, as well as the company's own Crimson Cup Coffee Houses. To learn more, visit crimsoncup.com.