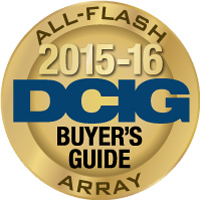 "The fresh data that DCIG has compiled for the latest All-Flash Array Buyer's Guide shows that all-flash array vendors have substantially reduced the barriers to all-flash adoption," said Chuck Cook.
Austin, Texas (PRWEB) September 29, 2015
The flash versus Hard Disk Drive (HDD) trade-off has been discussed for several years now in all corners of the enterprise storage marketplace. While companies offering flash solutions claimed better performance and higher $/IOPS, the balancing act was between price/performance with capacity and data storage requirements. Until now that trade-off may have kept all-flash storage arrays from moving from critical workloads in the datacenter to all active workloads. However, with flash capacity up to four times what it was in years past, and density up 50 per cent and entry prices down 50 per cent, making the entry list price point less than half what it was in 2014, there has never been a better time to evaluate all-flash arrays to provide dramatic application acceleration and proven reliability.
"The fresh data that DCIG has compiled for the latest All-Flash Array Buyer's Guide shows that all-flash array vendors have substantially reduced the barriers to all-flash adoption," said Chuck Cook, research analyst and co-author of the DCIG 2015-16 All-Flash Array Buyer's Guide. "While $/GB may be one of the least favorable ways or evaluating flash memory costs, many vendors in our Guide now claim a cost per GB, after deduplication and compression, of less than $2. This is just one of the many reasons why there is growing interest in deploying all-flash systems. With the introduction of our newest All-Flash Array Buyer's Guide, I am confident this will give customers an easy to use and powerful tool to shortlist solutions they will want to bring in-house to test."
For the DCIG 2015-16 All-Flash Array Buyer's Guide, DCIG, LLC evaluated 28 offerings from 18 companies. After an initial survey containing more than 100 questions was completed, product capabilities were assessed based on data provided by the vendor, prior DCIG research, and information available in the public domain. Products were then evaluated on more than 100 features. After scores were compiled, products were ranked Best-in-Class, Recommended, Excellent, Good, or Basic across functionality and capability relative to the other products included in the Buyer's Guide.
The intent for this Buyer's Guide, as with all DCIG Buyer's Guides, is to provide an "at-a-glance" comparison that enables organizations to quickly get to a short list of products that may meet their requirements.
The DCIG 2015-16 All-Flash Array Buyer's Guide Top solutions include (in alphabetical order): AMI StorTrends 3600i Series; Dell Compellent SC8000; Hitachi Data Systems HUS VM; HP 3PAR StoreServ 20000 Series, HP 3PAR StoreServ 7000c Series; IBM FlashSystem V9000; NetApp AFF8000 Series; Pure Storage FlashArray//m Series; SolidFire SF Series; and Tegile IntelliFlash T3000 Series.
HP 3PAR StoreServ 20000 Series achieved Best-in-Class ranking in this Guide for the best balance of strengths across all the scoring categories.
HP 3PAR StoreServ 20000 Series stood out in several ways from competitive solutions listed in the Buyer's Guide. They include:

Multi-protocol support: Support for SAN, NAS and object access with additional support for data migration to OpenStack clouds.
Advanced VMware and Microsoft virtualization support: Support for VMware VVols and Microsoft SCVMM, ODX and SMB3.
High Scalability and Availability: Scales to eight controllers, 896 GB cache and four Petabytes of raw all-flash capacity. It also packs 46 Terabytes per rack unit (TB/U) making it one of the highest density arrays in the Guide.
Designed for Enterprise Consolidation: Claims 3M+ IOPS with sub-millisecond latencies. With the HP 3PAR Gen5 Thin Express ASICs tuned to specifically manage flash and optimize performance.
Extensive Automated Policy-based Provisioning Capabilities: Storage templates can include SLA/QoS requirements or use policies to automatically select the appropriate storage location.
Broad QoS options: Guaranteed minimum or maximum IOPS, bandwidth and system response time for each volume. APIs are available for use by third party automation tools and a Software Defined Kit (SDK) is available for integrating with management software.
The DCIG 2015-16 All-Flash Array Buyer's Guide achieves the following objectives:
Provides an objective, third party evaluation of All-Flash Arrays that evaluates and scores their features from an end user's perspective
Scores and ranks features of each All-Flash Array on criteria that matter most to end users
Provides a standardized data sheet for each of the All-Flash Arrays so users may do quick side-by-side comparisons of products
Gives any organization a solid foundation for getting competitive bids from different providers that are based on "apples-to-apples" comparisons
"The barriers to all-flash adoption have been substantially reduced," added Ken Clipperton, managing analyst and co-author of the 2015-16 All-Flash Array Buyer's Guide. "When we introduced our first Guide for flash arrays in 2012, there was still a discussion over terminology and effective use cases for all-flash systems. And, it wasn't just about terminology in 2012. The first arrays had limited capacity and data services as a result, all flash systems were deployed to tackle specific storage-related pain points. Fast forward to today, and you find all-flash solutions with comprehensive set of features expected of an enterprise storage array. The winners of course are the purchasers of all-flash arrays and for that reason, we know this Guide will help them accelerate the product research and selection process, and in turn save them time and money in the process."
Disclosure and Methodology
DCIG identified 18 companies that provide All-Flash Arrays. Each All-Flash Array had to meet the following criteria:
Available as a rack-mountable appliance.
Must be marketed as an All-Flash Array. The best evidence of meeting this criterion is the existence of a specific all-flash SKU.
Must use flash memory as primary storage, not merely as an extended cache.
Must be formally announced and/or generally available for purchase as of June 19, 2015.
It is important to note that no vendors, whether clients or not, for this Buyer's Guide or all Buyer's Guides before, were afforded preferential treatment. All research was based upon information provided directly by vendors, research and analysis by DCIG and other publicly available information and all results solely reflect the opinion of DCIG.
As with all Buyer's Guide, they are not intended to be a substitute for internal testing nor was any product testing completed. DCIG encourages any organization that is considering the purchase of any solution included in a Buyer's Guide to do its own in-house testing.
As a supplement to this Buyer's Guide, all of the data collected for this Buyer's Guide and all current DCIG Buyer's Guides are available through the DCIG Analysis Portal, an online data visualization portal.
Availability
The DCIG 2015-16 All-Flash Array Buyer's Guide is available immediately to subscribing DCIG Analysis Portal users at the following link http://portal.dcig.com/. Users new to the DCIG Analysis Portal may register at this link to access this Guide.
Resources:
DCIG Website: http://www.dcig.com
DCIG Blog: http://www.dcig.com/blog
About DCIG
DCIG is a group of analysts with IT industry expertise who provide informed, insightful, third party analysis and commentary on IT hardware, software and services.
DCIG independently develops and licenses access to DCIG Buyer's Guides. DCIG Buyer's Guides provide actionable intelligence through comprehensive, in-depth analysis of data center infrastructure product features. DCIG also develops sponsored content in the form of blog entries, customer validations, product reviews, special reports and executive, standard and full-length white papers.
DCIG's target audiences include C-level executives, IT managers, systems and storage engineers and architects, press/media, magazine and website editors, bloggers, financial and technical analysts, and cloud service providers.