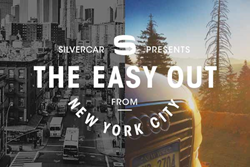 Extending the life of The Easy Out to take advantage of New York's beautiful fall weather just seemed to be the logical next step.
Austin, TX (PRWEB) September 29, 2015
Back by popular demand after making a splash this summer as the most convenient and stylish way for New Yorkers to head out of the city, Silvercar has reimagined The Easy Out for fall. Launching today and running through the end of the year, Silvercar will kick start its award-winning service for a second limited-time run in NYC allowing those seeking to escape the city in style - in a fully loaded Audi A4 - the opportunity to do so. Customers can reserve via Silvercar's app (iPhone and Android) or online.
During the summer months, New Yorkers took to escaping for the beach. With the arrival of fall, New Yorkers are gearing up to take in the autumn foliage and enjoy such quintessential fall activities as apple picking, hiking, fly-fishing and simply enjoying the charming country towns that are most accessible by car. That's why this season Silvercar has housed its fleet of sleek Audis - complete with complimentary in-car Wi-Fi, in-dash navigation and Sirius Radio - directly next to the West Side Highway, ensuring any trip upstate or to the Catskills is as easy as putting the key into the ignition and driving away.
Silvercar will offer customers a convenient pick-up and drop-off location at the Silver Towers building at 600 W. 42nd Street. After booking a reservation in advance, customers access their car by simply opening the Silvercar app and tapping a button to alert their personal concierge that they're about 15 minutes away. A Silvercar will be waiting upon arrival. Scan the QR code on the dashboard to unlock the car and hit the road - no paperwork, crowds or mystery car involved.
Silvercars are affordably priced, as low as $79/day on weekdays (Monday-Thursday) and as low as $129/day weekends (Friday-Sunday at 6pm) delivering an upgraded rental experience at the same, if not a lower price point than traditional car rental companies.
To enhance the fall program for its users, Silvercar has partnered with The Arnold House, the beloved 10-room inn tucked away on Shandalee Mountain in the Catskills, which has curated a fall foliage driving tour for guests that use Silvercar as their mode of transportation to the inn.
"We were thrilled at the response we received from New Yorkers this summer," says Silvercar CEO Luke Schneider. "We now know just how much these folks value their time and a streamlined experience that allows them to make the most of every weekend. Extending the life of The Easy Out to take advantage of New York's beautiful fall weather just seemed to be the logical next step."
About Silvercar:
Founded with a mission to eliminate typical frustrations and points of friction that have plagued its industry for decades, Silvercar is paving the way for the future of car rentals. The company's seamless car rental business—offering ONLY fully loaded silver Audi A4s—eliminates lines, counters, paperwork and hassles by delivering the entire experience through an easy-to-use mobile app and friendly concierge service. Silvercar is continually earning the highest customer satisfaction and loyalty scores in the industry and is currently offering service in five of the six busiest car rental markets in the U.S. (SFO, DEN, LAX, MIA, PHX as well as DFW, DAL, FLL, AUS and ORD).
About the Arnold House:
Located just two hours north of New York City, The Arnold serves as an updated version of the classic country house retreat. Intended to replicate the experience of staying with old friends, the programming focuses on simple, quality experiences that are delivered with authenticity. The 10-room inn features a diminutive spa offering an array of services; communal Sunroom with a fire that is always roaring, board games, library and freshly-baked cookies; and a 75-seat Tavern offering beers from local breweries, cocktails with fresh herbs and a small but worldly wine list while playing a game of a pool or picking some songs on the jukebox.