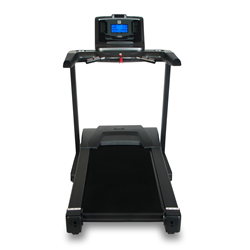 "We tested a slew of treadmills to find the best ones...we are excited to feature some of the top ones, including BH Fitness USA..." explains Jessica Sebor, EIC, Women's Running Magazine.
Foothill Ranch, CA (PRWEB) September 30, 2015
Women's Running Magazine named the BH Fitness USA, a world-renowned commercial and home fitness equipment manufacturer, residential treadmill model BH S5Ti the "Best Fold Up Treadmill" in the esteemed running magazine's October 2015 treadmill review.
In an effort to instruct their readers on how to find the best match when shopping for a home gym treadmill, Women's Running Magazine conducted their own market research and singled out the BH S5Ti for "Best Fold Up" treadmill. Chosen also for the treadmill's "sturdiness and durability" the review mentioned the BH S5Ti's "3.5 horsepower motor, cooling fan and Bluetooth-enabled i.Concept display". Reviewer also noted that the "running deck is two inches wider than most others on the market and handlebars are offset from the belt, which gives a nice, roomy feel."
"We tested a slew of treadmills to find the best ones to feature in our current issue. Just in time for fall, we are excited to feature some of the top ones, including BH Fitness USA, to offer our readers a chance to make that cold fall and winter running a little easier," explains Jessica Sebor, Women's Running Magazine's, Editor in Chief. "We're thrilled to offer our loyal readers this opportunity and we're looking forward to seeing their faces on Twitter and Instagram!"
"It's a great day when the world's largest women's running magazine recognizes your company for producing treadmills that deliver real value for the running community!" explains Dan Foust, BH Fitness USA's VP of Sales and Business Development. "We've worked hard to design a line of treadmills that speak to the needs of runners. From our state-of-the-art shock-absorption system; to the industry's widest tread-belts; to i.Concept technology that provides hundreds of programs, designed to keep you moving toward your fitness goals. Today's runners want the most efficient workout and they want features that enhance their experience without making their workout cumbersome. BH is very grateful that the team at Women's Running Magazine chose the S5Ti as the 'The Best Folding' treadmill!"
In conjunction with the treadmill review, Women's Running Magazine has launched a sweepstakes giving readers an opportunity to win one of the award-winning treadmills profiled in the review. Contestants are encouraged to engage with the running community by following @BHFitnessUSA and @WomensRunning on Twitter and Instagram and post photos of themselves during their daily running routines throughout the month of October. Contest details can be found by clicking here.
The WR Treadmill Review is featured in the October issue of Women's Running Magazine, which hits newsstands nationwide on September 29th, 2015.
About BH Fitness USA
BH is a multi-national company within the BH Group, headquartered in Spain and creating quality products for over 100 years. Built on a legacy of producing high end, user-focused fitness equipment for the home, light commercial and full commercial settings, BH Fitness manufactures and distributes treadmills, ellipticals, upright bicycles, recumbent bicycles, indoor training cycles, and strength equipment. With distribution and operations in North America, BH products can be found in more than 65 countries worldwide, making BH one of the most trusted and widely used fitness equipment and bike brands available today. The mark "BH" and the design mark BH Fitness are registered trademarks and used by BH North America Corporation under license from their owners. To learn more find BH online at BHFitnessUSA.com.
About Women's Running
Women's Running, the world's largest women-specific running magazine, covers all aspects of the running lifestyle, from active beauty needs to training plans. The Women's Running mission is simple: to create a high-quality magazine for smart, successful women who use running to balance and enrich their lives. Women's Running features quality editorial that motivates women to train intelligently, participate in active travel, adopt healthy nutrition habits and keep moving. Women's Running is distributed at over 4,000 retailers including Barnes & Noble, Borders, REI, Dick's Sporting Goods, Eastern Mountain Sports, and other independent, specialty retailers. Visit womensrunning.com to subscribe and stay up-to-date on the latest running news and trends.