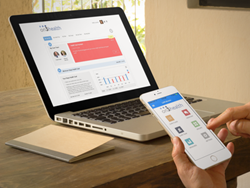 Our vision for empowering patients with chronic conditions perfectly aligns with Greenway's focus on care management and strength in primary care.
Sacramento, CA (PRWEB) September 30, 2015
On3Health, LLC today announces that it has joined the Greenway Health online Marketplace of value-added partners for users of Greenway Health's integrated electronic health record (EHR) and practice management solutions.
As a Marketplace-approved partner, On3Health will work with Greenway Health to pioneer mobile health solutions that stimulate patient engagement and support the delivery of high-quality, cost-effective care.
Through the Lifestyle Health Record™ platform, On3Health equips providers with a solution to address the growing challenge of caring for patients with chronic conditions. As payors shift incentives toward value-based care, providers are finally being rewarded for offering preventative care management services. On3Health will help Greenway Health users capitalize on this exciting opportunity to better serve patients, improve outcomes, and capture new revenue.
"We are delighted to work with Greenway to bring - for the first time ever - an integrated chronic condition management solution to its Marketplace. Our vision for empowering patients with chronic conditions perfectly aligns with Greenway's focus on care management and strength in primary care," said John Bruno, founder and CEO of On3Health. "As healthcare rapidly evolves, the need for cost-effective, mobile solutions has become obvious. By working with Greenway, we expect to accelerate customers' shift toward new care models with the ultimate goal of improving patients' lives."
"The Greenway Marketplace was developed to speed and simplify the adoption of healthcare innovation," said Greg Shilling, Greenway vice president of business and corporate development. "We're pleased to partner with On3Health through the Marketplace to enable our customers to easily evaluate and select solutions such as the Lifestyle Health Record that support their success in care delivery."
Providers using Greenway's Prime Suite are encouraged to visit the Marketplace to learn how using the Lifestyle Health Record can elevate your care management and inspire your patients. http://www.greenwayhealth.com/marketplace/solutions/lifestyle-health-record/
About On3Health®, LLC
On3Health, LLC, a pioneer in technology-enabled care management, is reimagining the way providers support patients with chronic conditions. The Lifestyle Health Record, our innovative cloud-based platform, combines patient-friendly remote monitoring with compelling behavioral, educational, and social engagement features. The platform represents a differentiated solution for care teams by automating between-visit interactions, identifying at-risk patients in real time, and organizing chronic populations. Our unique approach results in more efficient care delivery, increased provider revenue, and better patient engagement and health. To learn more, contact us at contact(at)on3health(dot)com