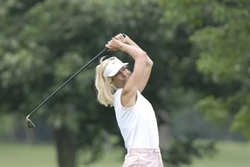 "It is so important to spread the message of organ donation and to never lose hope. I am connected forever with my donor family. I am proudly carrying another person with me always," Morton said.
New Providence, NJ (PRWEB) September 29, 2015
For Jill Morton, the opportunity to play at the 17th Annual NJ Sharing Network Golf Classic is a happy homecoming.
Morton, a Westfield native who graduated from Westfield High School, has competitively played golf all over the world – most notably as a silver medalist in the U.S. Transplant Games in 2004. As a competitor at the World Transplant Games as well, Morton has won gold medals in various sports, including tennis and cycling. She now lives in Manhattan and – as a kidney recipient who spreads the word about organ donation wherever she goes – she is eager to support NJ Sharing Network.
"This is a terrific group of dedicated people and I am so pleased to be involved with NJ Sharing Network," Morton said. "It is so important to spread the message of organ donation and to never lose hope. I am connected forever with my donor family. I am proudly carrying another person with me always."
Morton will join in the event on Monday, October 5 to spread the life-saving message of organ and tissue donation, to highlight the fact that nearly 5,000 people remain on the transplant waiting list in New Jersey for organs and tissue and to help raise funds for education, research and donor family support.
The golf classic, presented by Barnabas Health, will once again be at the Baltusrol Golf Club in Springfield, which will be home to the 2016 PGA Championship. Baltusrol, which dates back to 1895, has hosted seven US Opens and one PGA Championship. The golf classic is the ideal opportunity for participants to play an internationally recognized course before the best golfers in the world arrive.
"I've never played Baltustrol before," Morton said. "It was always in my backyard when I was growing up, but I was never given this chance. To say I am excited is an understatement."
Many of the people involved in the golf classic have long supported the life-saving mission. Morristown resident Lenore Ford is chair of the golf event, and her participation is a way to honor the legacy of her husband, Bill, who suffered from a rare liver disorder and received two liver transplants. Ford's late husband, founder of Ford Financial Group, based in East Hanover, was very healthy until a rare disorder caused his liver to fail. He died in 1994 shortly after a second transplant.
Lenore Ford remains grateful for the two organ donors whose generosity gave her husband the transplants. She remains committed to the mission of increasing organ and tissue donation awareness. "Every transplant saves a life and is a miracle," Ford said.
The NJ Sharing Network Golf Classic was held at Baltusrol for the first time in 2013.
"Our golfers and participants were so impressed with the historic course and beautiful surroundings that we decided to return to Baltusrol year after year," said Joe Roth, President and Chief Executive Officer of NJ Sharing Network. He noted that both the upper and lower courses at Baltusrol would be available to golfers. Prizes will be awarded in different golf categories.
"This wonderful event provides a memorable day on the course," Roth said. "But we know our ultimate aim is to support our mission. Nearly 5,000 people in New Jersey are in desperate need of organs, and all of our efforts work toward providing the gift of life to as many people as possible."
The golf classic this year includes a golf clinic. A Baltusrol golf pro will conduct the clinic and golf clubs are available upon request. Also included in the golf clinic package is the cocktail and awards reception, which will include a tricky tray and silent auction.
For additional information or to participate, please contact Alyssa D'Addio at 908-516-5432 and ADAddio(at)njsharingnetwork(dot)org. To sign up, visit http://www.NJSharingNetwork.org/Golf.
About NJ Sharing Network
NJ Sharing Network is a non-profit, federally designated organization responsible for the recovery and placement of donated organs and tissue for New Jersey residents in need of life-saving transplants. NJ Sharing Network partners with Donate Life America, a not-for-profit national alliance that drives communities to increase their numbers of registered donors. NJ Sharing Network honors those who gave, pays tribute to those who received, offers hope to those who continue to wait, and remembers the lives lost while waiting...for the gift of life.
About the NJ Sharing Network Foundation
The NJ Sharing Network Foundation is committed to increasing the number of lives saved through education, research, donor family support and public awareness about the life-saving benefits of organ and tissue donation and transplantation. Contributions made to the NJ Sharing Network Foundation empower the organization's efforts and bring us a step closer to providing the greatest gift of all: life.
To learn more, get involved, and register as an organ and tissue donor, visit http://www.NJSharingNetwork.org. Register to become an organ and tissue donor in just 60 seconds! NJ Sharing Network is the nation's first OPO to launch Donate Life America's new national, mobile-friendly registry. Visit our website and click "Register as an organ and tissue donor." Then share your decision with friends and family. Ninety-five percent of Americans favor organ donation. The new registry lets you say "Yes to Life!" with just a few clicks.