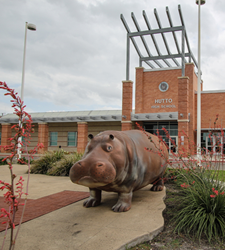 . Rapid Responder is an important part of our safety plan, and it improves our ability to act quickly and more efficiently during crisis situations.
Hutto, TX (PRWEB) September 30, 2015
September 29, 2015 - Hutto, TX is home to the Hutto Independent School District, a district that focuses their efforts on education and school safety. During the 2014-2015 school year, Hutto ISD implemented Prepared Response Inc.'s award winning emergency management and crisis preparedness system, Rapid Responder®. The cost effective, robust and standardized system is helping all eight Hutto ISD schools to better prepare and plan for potential emergencies.
Three years ago, a chemistry experiment went wrong in the high school and students were forced to evacuate. The fire department responded, but without updated maps or information on hazardous material, they couldn't respond as efficiently as desired. From this incident, Hutto ISD realized the need for a centralized place that housed plans and hazardous material in case other events like this, or worse, happen again. Denise Kablaitis, Hutto ISD's Director of Health & Safety Services said, "Rapid Responder helps keep everything centralized. In one location we can find maps, floor plans, response plans, and locations of hazardous material. It keeps everyone in the district and our responders on the same page when responding, which increases our district's effectiveness."
Prior to deploying Rapid Responder in their eight schools, Hutto schools were equipped with video surveillance cameras, school resource officers, security officers, a visitor management system and radios that connected to the county dispatch center. Hutto ISD has always had a good working relationship with first responders, but Rapid Responder has helped them further increase their partnership by giving each party immediate access to vital information, lessening miscommunication during emergencies and unexpected incidents.
Todd Robison, Public Information Officer for the district, said this about their use of the system, "At Hutto ISD, we do not compromise when it comes to safety. Rapid Responder is an important part of our safety plan, and it improves our ability to act quickly and more efficiently during crisis situations."
Since fully implementing Rapid Responder and completing their training, Hutto ISD has used Rapid Responder to log and plan drills, and log actual events that may occur. Each school utilizes the system individually and has been successful at using it to prepare for a variety of events through drills such as fire, lockdown and evacuation. Along with planning, practicing and logging drills through Rapid Responder, they have also used it to locate important information such as emergency shut off valves for water and gas. Hutto ISD is looking at the possibility of utilizing more features in the Rapid Responder system like the new Notify app feature and emergency personnel contact information.
Rapid Responder is an all-hazards site-based crisis management system which provides school administrators and first responder's instant access to site specific emergency response information. Site specific information includes floor plans, aerial views, site maps, hazardous material locations, utility shut off information, emergency and evacuation plans, and live camera feed. Currently deployed in over 16,000 facilities nationwide, Rapid Responder is SAFETY Act certified by the U.S. Department of Homeland Security, and has been successfully used during active shooter events, bomb threats, lock downs and other emergency situations.
MEDIA CONTACT
FOR FURTHER INFORMATION, PLEASE CONTACT:
Prepared Response, Inc.
Samantha Caron
scaron(at)preparedresponse(dot)com
253.363.8561
Hutto Independent School District
Todd Robison
todd.robison(at)huttoisd(dot)net
512.759.3008
ABOUT PREPARED RESPONSE, INC.
Prepared Response Inc. is the leading innovator of emergency preparedness and crisis management solutions in the nation. For over a decade, Prepared Response has provided industry leading technology and consulting services that have been proven to save lives and mitigate property damage. The company's flagship product, Rapid Responder, is used by over 1,300 public safety agencies nationwide and is SAFETY Act Certified by the U.S. Department of Homeland Security as a Qualified Anti-Terrorism Technology, along with being endorsed by the National Sheriffs' Association. Rapid Responder is currently deployed in educational facilities, public buildings, critical infrastructure and private facilities across the U.S.
The privately held company is headquartered in Kirkland, Washington. Additional information can be found at http://www.preparedresponse.com or by calling 1-866-862-7741.