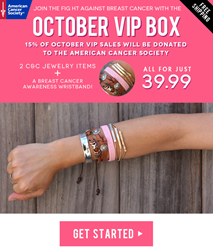 San Francisco, CA (PRWEB) September 30, 2015
Taking action to "Fight like a Girl" sends a powerful message this upcoming October for jewelry brand, Cate & Chloe, as they have partnered up with the American Cancer Society in the fight to eliminate cancer. The affordable and trendy jewelry company, known for their exclusive pink VIP boxes, have partnered up with the non-profit organization in making the important strides against breast cancer, that reportedly about 1 in 8 U.S. women will develop over the course of their lifetime. (Breastcancer.org)
The necessity in taking action to raise awareness had inspired the theme for the monthly VIP boxes for October. As an added bonus, 15% of these October VIP boxes sales will be donated to the American Cancer Society.
Each VIP box is hand picked by the stylists at Cate & Chloe, which include two jewelry pieces and an exclusive monthly gift, tailored to each and every VIP member's favorite jewelry and style preferences in mind. Each new VIP member will also be receiving a C&C Travel makeup brush set as the monthly gift and the symbolic pink cancer wristband that reads, "Fight like a Girl" in support of the cause.
Cate & Chloe VIP boxes will be sent out the first week of October to their VIP members in addition to a generous amount of respective YouTube and lifestyle bloggers, in effort to push awareness for the cause.
Breast Cancer awareness month helps to increase the awareness of this disease, though in recent months has brought upon special emphasis in taking measures to detect the disease in its early stages, in order to plan for proper and effective treatment.