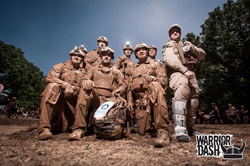 The response we get from the other participants when they realize what we are out here trying to do is amazing.
ST. FRANCISVILLE, La. (PRWEB) September 30, 2015
This Saturday, TEAM Special Ops Survivors will be honoring four Louisiana National Guard members killed in a March 10 crash in Navarre, Fla. by participating in Warrior Dash in St. Francisville, La.
The fallen heroes being honored this Saturday are: CW4 George Griffin; CW4 George Strother; SSG Lance Bergeron and SSG Thomas Florich.
The TEAM raises awareness and money for Special Ops Survivors by competing in obstacle races like Warrior Dash in full (very heavy) special operations gear. They wear the names, badges and photos of the fallen to honor not only their sacrifice, but also that of their spouses and families.
Each TEAM member represents a different fallen hero by donning a memorial patch that includes the fallen hero's name, rank, unit and date of death. TEAM members work together at the events, much like the operators worked together on their teams, to conquer any obstacles. During the event, TEAM members share the stories of the heroes with other race participants.
"The response we get from the other participants when they realize what we are out here trying to do is amazing," says Trey Kubricht, volunteer board president who heads up (and participates in) the TEAM activities. "Our goal is to honor the ultimate sacrifice these heroes made while raising awareness about Special Ops Survivors which does so much for the spouses left behind."
Special Ops Survivors is the only nonprofit organization exclusively dedicated to serving surviving spouses of active duty Army, Navy, Air Force and Marine Special Operations personnel who have died in combat or training since Jan. 1, 1980.
The mission of Special Ops Survivors is to embrace and empower surviving spouses of fallen Special Operations personnel to build healthy post-loss futures as they transition to their new lives by providing individual, group, and peer-to-peer emotional support as well as individual financial support. During the last 13 years, the organization has grown from a small grass-roots organization to an established organization actively serving more than 200 surviving spouses from all military service branches. For more information, visit SpecialOpsSurvivors.org.
UPCOMING TEAM EVENTS:
Oct. 3: Warrior Dash (St. Francisville, La.)
Oct. 31: Spartan Beast (Dallas)
Nov. 7: Spartan Sprint at Fenway (Boston)
For more information about TEAM Special Ops Survivors, go to:
http://www.specialopssurvivors.org/team
##