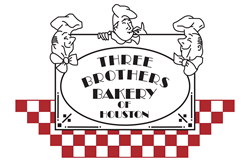 "Every single dollar makes an impact and we want to do our part to help." - Robert Jucker
Houston, TX (PRWEB) October 02, 2015
Three Brothers Bakery gives back to the community in a number of ways, one of which focuses on Breast Cancer Awareness Month every year. During the month of October, Three Brothers Bakery will be offering new pink pumpkin cookies in celebration of Susan G. Komen Houston's annual Race for the Cure, which falls on Halloween. Additionally, the bakery will be introducing new Breast Cancer Awareness ribbons for purchase in-store, the proceeds of which will go directly to supporting Komen Houston.
The bakery's new Breast Cancer Awareness ribbons will be available for purchase at either $1 or $5 values at all three bakery locations, and these donations will be given directly to Susan G. Komen Houston in support of its mission to save lives and end breast cancer. Upon purchase of a ribbon, guests can sign their name, or the name of a loved one affected by breast cancer, and can hang the ribbon somewhere in the store. For every $5 ribbon purchased, guests will also receive a complimentary pink gingerbread man.
As a nine-year breast cancer survivor, and ninth in her family to be diagnosed, Three Brothers Bakery co-owner, Janice Jucker, is passionate about the cause and is active in educating and spreading awareness for the importance of early detection, helping other newly diagnosed patients through their journeys, and also serves as a board member of Susan G. Komen Houston.
"We commit to fundraising during Breast Cancer Awareness Month every year," says Bobby Jucker, bakery co-owner and fifth generation baker. "I've seen the work Susan G. Komen does first-hand through my wife, and while so much has been done in the fight against breast cancer, there is still so much left to do through research, treatment and education. Every single dollar makes an impact and we want to do our part to help."
For more information regarding Three Brothers Bakery, its breast cancer awareness items, Janice's story of diagnosis and survival or any of its other sweet products, please contact Allison Huseman at 713-225-0880 or allison@integrateagency.com.
About Three Brothers Bakery
The traditions of Three Brothers Bakery began in Chrzanow, Poland circa 1825, and were preserved despite the family's concentration camp imprisonment during the Holocaust. Their miraculous liberation, and subsequent move to Houston, brought Eastern European scratch baking traditions to 4036 S. Braeswood Blvd, 12393 Kingsride Lane, and 4606 Washington Ave where the owners are now proud to call themselves "memory makers who just happen to be bakers." Perfecting the process for almost 200 years, each day the fifth generation bakers produce mostly dairy-free breads and pastries, cookies, a full line of specialty dessert cakes and pies, as well as custom birthday, special occasion, wedding and groom's cakes using only the highest quality ingredients.
The Three Brothers Bakery pecan pie was named "the best mail order pecan pie America has to offer" by Country Living magazine, bakery owner, Bobby Jucker competed in the popular 'Food Network Challenge' and has been seen on Food Network's Outrageous Food. Three Brothers won "Best Mail-Order Pies 2012" from Bon Appetit, as well as Modern Baking's "2013 Retail Bakery of the Year" and was part of The Knot's "2010-2013 Best of Weddings" and "Hall of Fame" picks. Most recently, Three Brothers Bakery was named #11 in "America's 50 Best Bakeries" by The Daily Meal, and was awarded the 2013 Jeffrey Butland Family-Owned Business of the Year by the Houston division of the U.S. Small Business Administration. Three Brothers Bakery is a certified Woman-Owned Business through the Women's Business Enterprise National Council, and a State of Texas Historically Underutilized Business.
Follow Three Brothers Bakery on Facebook and Twitter for Houston area news, information and events.