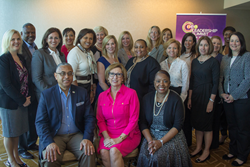 Stuckey replaces outgoing Board Chair Betsy Hosick of Chevron. Two other retail industry leaders join the Network's Board.
Dallas, Texas (PRWEB) October 01, 2015
More than a thousand Network of Executive Women members elected Karen Stuckey of Walmart NEW Board Chair here this morning at the opening general session of the NEW Leadership Summit 2015. Stuckey, senior vice president, softlines and general merchandise sourcing for the retailer, previously served as vice chair of the women's leadership group, the retail and consumer goods industry's largest.
Two industry leaders from Deloitte and Walmart were also elected to the NEW Board of Directors at the Network's Annual Members Meeting. Carmen Bauza, senior vice president and general merchandising manager, consumables and health and wellness for Wal-Mart Stores Inc., and Nicola Johnson, principal, consumer and industrial products practice for Deloitte Consulting, were elected to the NEW Board as directors at-large.
"The Network's ambitious plans to rapidly grow membership, invest in transformative technologies and add value for members and partners requires a Board with strong, visionary leaders," said NEW President and CEO Joan Toth. "We're fortunate to benefit from leaders like Carmen and Nicola, who are passionate about advancing women in the industry and leveraging the business benefits of gender equity."
Outgoing NEW Board Chair Betsy Hosick, general manager, procurement, downstream, midstream and services for Chevron Corporation, was elected immediate past chair.
Re-elected
Sue Sears, vice president, global diversity and inclusion for Kimberly-Clark, was elected NEW education and research chair. She previously served as NEW Board director at-large. Marla Thompson, senior vice president, U.S. strategy for Catalina, was reelected to the position of regional advisory chair. Tammy DeBoer, senior vice president, merchandising at Family Dollar Stores Inc, was re-elected as director at-large.
Toth thanked outgoing NEW Education and Research Chair Maria Edelson of Sales & Capability Development and directors at-large Sarah Chartrand of Ahold USA, Dian Emerson of Safeway, Tonie Leatherberry of Deloitte, Marnette Perry of Kroger and Greg Warren of Walmart.
"The Network, our members and partner companies, and the industry's diversity and inclusion efforts have benefited from the generous and valuable service of Maria, Sarah, Dian, Tonie, Marnette and Greg," Toth said. "We thank them for their efforts to close the gender gap. They've made a difference and helped propel women's leadership throughout the industry."
ABOUT THE NETWORK
The Network of Executive Women is the retail and consumer goods and services industry's largest women's leadership organization. It represents nearly 10,000 members from 750 companies, 100 corporate partners and 20 regions in the U.S. and Canada. For more information on the Network's programs, events, research and "It's Time" movement for workplace change, visit newonline.org.