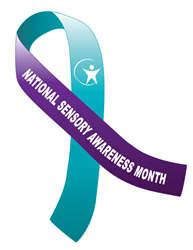 the Sensory Processing Disorder Foundation calls for nationwide action to spread awareness of Sensory Processing Disorder during October's National Sensory Awareness Month
Denver, CO (PRWEB) September 30, 2015
On September 30, 2015, the Sensory Processing Disorder Foundation calls for nationwide action to spread awareness of Sensory Processing Disorder during October's National Sensory Awareness Month. Symptoms of sensory challenges occur within a broad spectrum of severity in both children and adults, which often go untreated due to current unawareness of medical professionals and parents. While most of us have occasional difficulties processing sensory information, for children and adults with Sensory Processing Disorder, these difficulties are chronic, neurological and they disrupt everyday life. Often, someone struggling with sensory challenges are categorized as having behavioral issues when they are simply reacting to a neurological sensory overload. These children and adults need proper sensory therapy to learn how to self-regulate so they can improve their quality of life.
One study (Ahn, Miller, Milberger, McIntosh, 2004) shows that at least 1 in 20 children's daily life is affected by SPD. Another research study by the Sensory Processing Disorder Scientific Work Group (Ben-Sasson, Carter, Briggs-Gowen, 2009) suggests that 1 in every 6 children experiences sensory symptoms that may be significant enough to affect aspects of everyday life functions. Parents and caregivers of loved ones with SPD find the disorder to be isolating and limiting until they receive specialized Occupational Therapy.
In honor of National Sensory Awareness Month the SPD Foundation has a sensory awareness t-shirt for purchase until October 7, 2015 which will help fund SPD research that the Foundation conducts. In addition, the Foundation's SPD University has compiled two educational packages for parents, caregivers and professionals that launch on October 5th. The Parent Pack includes over five hours of video on essential sensory information for parents and caregivers presented by SPD field leaders Dr. Lucy Jane Miller and Paula Aquilla, BSc. The Professional Pack features over seven hours of video content, which includes the most popular assessment along with definitions and strategies for sensory-based motor disorders presented by field and research experts Dr. Lucy Jane Miller, Dr. Sarah Schoen, and Renee Allen, OTR/L. Educational programs through the Foundation's SPD University support its mission of increasing understanding of SPD through education and conducting rigorous research. Its programs are developed by the leading authorities on Sensory Processing Disorder. Packages can be found on spduniversity.org from October 5-31.
The SPD Foundation encourages anyone interested in spreading awareness during National Sensory Awareness Month to check in with the October Sensory Awareness Hub and to follow their social media channels for grassroots inspired action, updates, free downloads and educational materials.
About Sensory Processing Disorder Foundation: The Sensory Processing Disorder (SPD) Foundation, a Colorado 501(c)(3), is the world leader in research, education, and awareness for Sensory Processing Disorder, a neurological condition that disrupts the daily lives of more than 4 million Americans. The SPD Foundation offers educational programs, conducts SPD research, and provides resources for parents worldwide. Dr. Lucy Jane Miller, widely recognized as a leader in SPD research worldwide, founded the SPD Foundation in 1979. The SPD Foundation provides hope and help to individuals and families living with SPD. For more information, visit SPDFoundation.net or call 303-794-1182.