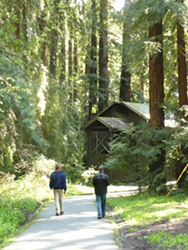 People get excited about coming here after seeing the aerial shots and the expansiveness of the redwoods ~ Mickey Petrov, Site Director
Aptos, California (PRWEB) September 30, 2015
United Camps, Conferences and Retreats (UCCR), a non-profit camp and retreat management organization, is pleased to announce a video tour of one of their sites, Monte Toyon Camp and Conference in Aptos, California. This is the first of many video tours planned for the other sites UCCR manages.
California videographer, Karl Tallman, shot the video over many months in order to get a variety of people included. The camp hosts many outdoor education programs as well as adult retreats. "Capturing the true spirit of our camp and the diverse groups we serve is a great way for people to experience our site before making a reservation," says Mickey Petrov, Monte Toyon's Site Director. Online videos are also helpful for groups who are promoting their event at Monte Toyon. "People get excited about coming here after seeing the aerial shots and the expansiveness of the redwoods," continued Petrov.
Mr. Tallman will be working over the next number of months to shoot footage of more of UCCR's facilities and create virtual tour videos which will be available on UCCR's website.