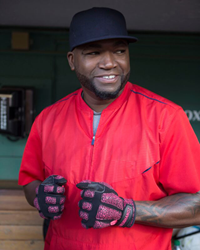 The funds they raise will allow us to our extend our life-saving programs and make an even greater impact on local communities across America
Dallas, TX (PRWEB) October 01, 2015
October is Breast Cancer Awareness Month and POWERHANDZ, Inc, and its Power to Give Foundation is doing its part to help increase overall awareness and emphasize the importance of early detection.
The Dallas based manufacturer of performance-enhancing sports gloves and athletic training products will launch its #POWERTOFIGHT social media campaign on October 1 with POWERHANDZ brand ambassadors such as Boston Red Sox slugger David Ortiz, NFL Hall-of Famer Tim Brown and Dallas Cowboys safety J.J. Wilcox showcasing a special pink edition of the training gloves to help spread the word.
POWERHANDZ will also begin a partnership with the National Breast Cancer Foundation (NBCF), a Texas based 501c3 whose mission is to provide help and support to women affected by breast cancer through early detection, education and support services.
Breast cancer awareness has always been important to POWERHANDZ Co-founder and COO Danyel Surrency Jones, and became personal to her recently when her friend Michelle Zada Hall was diagnosed with stage IV breast cancer in May.
Zada Hall, a 37-year-old former professional modern dancer, graduate of The Ohio State University and current instructor at the renowned Booker T. Washington High School for the Performing and Visual Arts in Dallas, immediately had to begin chemotherapy treatments upon her diagnosis and quickly saw her medical bills skyrocket.
Throughout the month of October, POWERHANDZ will donate a portion of all proceeds from the sale of gloves, #POWERTOFIGHT and #TeamZada shirts, and #POWERTOFIGHT wristbands to support the NBCF and help also offset Michelle's medical expenses.
"We are excited to partner with POWERHANDZ in their pink training gloves campaign during National Breast Cancer Awareness Month," says NBCF Co-Founder & CEO, Janelle Hail. "The funds they raise will allow us to our extend our life-saving programs and make an even greater impact on local communities across America."
Zada Hall appreciates what Surrency Jones and her husband (co-founder and CEO of POWERHANDZ) Darnell Jones are doing to create awareness and raise funding to help her battle the disease. "I am blessed to know such compassionate and giving individuals," said Zada Hall in regards to the POWERHANDZ involvement in her fight. "I was filled with joy and so thankful that they felt so moved to act on my behalf."
While most people are aware of breast cancer, many fail to take the steps to have a plan to detect the disease in its early stages", said Surrency Jones. "If we can help to reinforce the message with our POWER TO FIGHT campaign, and raise some money for the NBCF programs and for Michelle's medical expenses all at the same time, it's the ultimate win-win-win."
About POWERHANDZ: A line of performance-enhancing sports gloves and athletic training products innovatively designed to both strengthen hand and arm muscles and intensify players' dexterity. Products in the portfolio include: a weighted Anti-Grip Basketball Glove, a weighted Anti-Grip and Extreme-Grip Football Glove, a weighted Pure-Grip Baseball Glove, a weighted Pure-Grip Golf Glove, an Extreme-Grip Soccer Goalkeeper Glove, a weighted Lifestyle Glove, and removable Anti-Grip Wraps for both Basketball and Football. #POWERTOFIGHT