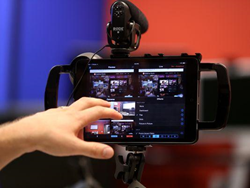 Louisville, KY (PRWEB) October 06, 2015
Switcher Studio® has been pushing the boundaries of creating video with iOS since its launch. Now the app is even more powerful with the addition of "Director Mode". This update allows users to assign fixed frame rates, record 1080p HD broadcast quality video from multiple angles using mobile devices and export compositions to Final Cut Pro X. Yes, it's good enough for TV and there are already stations using it for on-air content.
New features in Switcher Studio Pro 2.5.0 include:
● Fixed frame rates
● 1080p HD multi-camera video recording
● Seamless integration with Final Cut Pro X
● Wireless Bluetooth audio support
Using the new Director Mode in Switcher Studio, users can disable the built-in camera on the primary device and sync up to 4 additional iPhones or iPads by pairing with a router or hotspot. Tapping "Rec +Broadcast" within the app triggers a recording on each connected device so users have access to full quality video from each angle regardless of any hiccups or glitches on the network. Users can then switch between sources and make edits while an event is in progress.
When the user stops recording, video from each connected iPhone or iPad is composited on the primary switching device with all cuts and transitions made during the event. This results in a fully edited HD video that can be immediately uploaded from the device or exported to Final Cut Pro X to make additional tweaks and adjustments (*requires Media Manager BETA). Director Mode also allows the user to assign a fixed frame rate for the final composition. When using Director Mode, users also benefit from the ability to broadcast to a streaming video platform like YouTube or Ustream at a lower quality if they have limited bandwidth while still capturing a 1080p HD video to upload afterwards for on-demand viewing. There is even a built in speed test that can be used to check the user's internet connection and automatically adjust the resolution and bitrate for a live video stream.
During a production, users can also insert photos, graphics, and overlays or use the Switcher Cast screen sharing app to bring a computer in as a source and share PowerPoint and Keynote presentations with multi-view and picture-in-picture effects. The app requires no special hardware or gadgets, all a user needs is an iPhone or iPad and an internet connection - simply sync the devices to the same router and use it as a hub for communication between cameras (no internet connection required if only recording).
With Switcher Studio Pro users can record and stream multi-camera video of athletics, local government, religious services, weddings, parades, concerts, conferences, interviews, special events, classes, workshops and more using iPhones, iPads or an iPod Touch.
Switcher Studio Pro is $299/yr (includes a 7 day free trial). Visit http://www.switcherstudio.com to learn more.
Follow us:
Twitter: @SwitcherStudio
Facebook: facebook.com/switcherstudio
About:
Switcher Studio is a mobile video app that lets users sync up to four iPhones and iPads to record and stream LIVE video to services like YouTube and Ustream. Insert photos and graphic overlays, manage multi-view effects, and more. The app also supports seamless integration with Final Cut Pro X using Switcher Media Manager and remote channel management of RTMP (Real Time Messaging Protocol) live video platforms through the online dashboard with Switcher Studio's cloud services.
Contact:
Switcher Studio
Nick Mattingly, 502.498.8623
nick(at)switcherstudio(dot)com