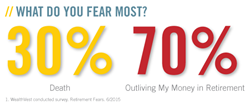 WealthVest has a deep interest in the myriad issues of the current retirement crisis, said Wade Dokken, Co-President and Founder of WealthVest.
Bozeman, Montana (PRWEB) October 01, 2015
WealthVest's findings disrupt the current perception of what investor savings can safely generate in retirement. Our research finds that an investor retiring as of January 1, 2015 who pursues a traditional 4% withdrawal rate from their savings to fund retirement has well over a 50% probability of outliving their savings. Depending upon an investor's investment decisions, the real safe withdrawal rate is much closer to 2% and could be lower.
The full findings of the study can be viewed here.
"WealthVest has a deep interest in the myriad issues of the current retirement crisis," said Wade Dokken, Co-President and Founder of WealthVest. "Prior to this ground-breaking study, no major research paper combined fund management fees, financial advisor fees, and the current market valuation risks to forecast a safe withdrawal rate for investors as of 1/1/15," said Dokken.
The leading-edge study is the first to fully incorporate all cost of professional management, and the unique valuations of today's stock and bond market. The U.S. 10 Year Treasury Bond has been below 2% in 1941, and for different periods since 2013. These two periods are the lowest bond yields have fallen over the past 145 years.
Simultaneously, stock valuations, as measured by the Shiller CAPE Ratio have been above 26x earnings intermittently over the past year. The S&P 500 has only been this expensive in 1929, 1998-2000, 2007-2008 and today.
Never in the past 145 years have both the bond market and the stock market been this expensive simultaneously.
The implications for an American retiring as of 2015 is dire. Since their future returns are likely to be very low in both stocks and bonds, our research suggests a safe withdrawal rate for retirement is at a record low. American's are not prepared for this bad news.
"Retirees are vulnerable to sequence of returns risk once they begin taking income from investment portfolios," said Wade Pfau, Ph.D. and CFA, Professor of Retirement Income at The American College for Financial Services in Bryn Mawr, PA. "If early investment returns are poor, a sustainable withdrawal rate may be significantly lower than the rate implied by average portfolio returns over an entire retirement period, " said Pfau.
The article in October's issue of Financial Advisor Magazine can be viewed here.
Wade D. Pfau
Wade D. Pfau, Ph.D. and CFA, is a Professor of Retirement Income at The American College for Financial Services in Bryn Mawr, PA. He serves as the Director of Retirement Research for McLean Asset Management and inStream Solutions.
Named to the "Power 20" men and women who are shaping the financial advisory industry, by InvestmentNews in 2013, as well as its "40 Under 40" list in 2014, Pfau has become a well-respected leader in the financial industry. He was on the Investment Advisor 25 list for 2014 and received Financial Planning Magazine's Influencer Award. Pfau is a two-time winner of the Journal of Financial Planning Montgomery-Warschauer Editor's Award, a two-time winner of the Academic Thought Leadership Award from the Retirement Income Industry Association, and a best paper award winner in the Retirement category from the Academy of Financial Services.
Pfau is host of the Retirement Researcher website, a monthly columnist for advisors.
Perspectives, a RetireMentor for MarketWatch, a contributor to Forbes, and an expert panelist for the Wall Street Journal. His research has been discussed in print editions of The Economist, The New York Times, Wall Street Journal, and Money Magazine.
Wade Dokken
Wade Dokken is Co-Founder and Co-President of WealthVest, alongside his partner, Lincoln Collins. WealthVest designs, markets, and distributes private pension solutions focused on high consumer value. Wade was among the founding U.S. executives and served as National Sales Manager, Chief Marketing Officer, and CEO of American Skandia, a $43 billion variable annuity company. Dokken oversaw the sale of American Skandia by Goldman Sachs to Prudential Insurance in 2003. Dokken is also the author of "New Century, New Deal," a public policy analysis of the challenges facing Social Security in the coming decades. Dokken's career started at PaineWebber in 1984.
Evan Simonoff
Evan Simonoff is editor-in-chief and editorial director of Financial Advisor magazine, which he co-founded in 2000. Prior to launching Financial Advisor, he served as editor-in-chief of Financial Planning from 1990 to 2000. A widely recognized expert on personal finance and investments, his articles have appeared in Fortune, Business Week and The New York Times. Before covering investments and personal finance, he edited a newsletter on mergers and acquisitions for investment bankers and institutional investors. Simonoff received a bachelor's degree from Boston University and a master's degree from Columbia University.