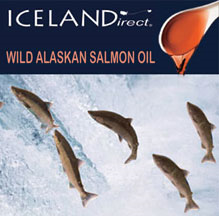 true Alaskan wild-caught salmon oil is one of the best sources of Omega-3, astaxanthin and naturally occurring vitamin D3
Secaucus, NJ (PRWEB) October 05, 2015
Icelandirect (http://www.icelandirect.com), the largest importer of Icelandic fish oil into the United States, announced today the availability of fresh stocks of Wild Alaskan Salmon Oil formulated for both human and pet consumption.
As it turns out Iceland does not produce wild salmon oil. Icelandirect's stringent production standards call for the highest quality premium materials supplied to the country's most prestigious formulators, distributors, and product marketers. Only Icelandirect's Wild Alaskan Salmon Oil meets the company's quality standards. It is refined, deodorized, and winterized to produce pure, potent, toxin-free material that is California Proposition 65-compliant, non-GMO, and ethically-sourced using sustainable fishing methods.
According to Brandon Miller, President of Icelandirect, "true Alaskan wild-caught salmon oil is one of the best sources of Omega-3, containing an EPA minimum of 80mg/g and a DHA minimum of 90mg/g. Plus it is an amazing powerhouse of many other vitamins and minerals including high levels of astaxanthin and naturally-occurring vitamin D3."
Available for both humans and pets in bulk, encapsulated, emulsified, softgel bottled or liquid packaged, the oil is produced with full GMP compliance, a long shelf life, and 3rd-party testing.
Icelandirect provides the finest fish oils in a variety of TG and EE concentrations formulated for people and pets, including the highest quality Omega-3, Cod Liver Oil, Tuna Oil, Shark Liver Oil, Wild Alaskan Salmon Oil, Krill Oil, Algal DHA Oil, Human-Grade Omega-3 for Pets (HGO3), and Pet Treats from fish. Nutrients including Astaxanthin, Omega-7, Vitamins A, D & E, ALA, Glucosamine, Alpha Tocopheryl, CoQ10, Saw Palmetto, Evening Primrose, Flaxseed, Biotin and Lecithin. In bulk, softgels, emulsions, powders, capsules, liquid-packaged, and softgel-bottled. Production meets GMP standards and Icelandirect holds many health, sustainability, and quality certifications. Member of GOED and Friends of the Sea..
Icelandirect will be exhibiting at SupplySide West in Las Vegas October 7-8, booth number 2746. You can arrange an appointment by emailing info(at)icelandirect(dot)com. Visit http://www.icelandirect.com for more information.