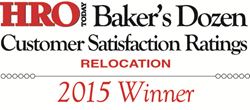 "We are delighted to be supporting Worldwide ERC in Boston in 2015"
Hampton, NH (PRWEB) October 05, 2015
MSI, the leading provider of global talent solutions to corporations worldwide, is proud to be a Gold Sponsor of the 2015 WERC Global Workforce Mobility Summit in Boston. In addition, MSI is the lead sponsor of the summit's "Bestival" charity event on October 8, raising funds for Family Promise, an organization helping homeless and low-income families achieve sustainable independence.
Also on October 8, MSI's David Schofield will be presenting "Perspectives on Mobility 2020."
"We are delighted to be supporting Worldwide ERC in Boston in 2015," commented Timm Runnion, MSI's CEO. "We're looking forward to welcoming our industry to New England in the fall and supporting this worthwhile charitable endeavor."
MSI will be located in Booth #602 during the event (October 7-9). In addition, MSI will also be co-hosting, along with partners Radius, AIRINC, and UK Trade & Investment, a reception on October 6 at the British Consulate Residence on Beacon Hill.
About MSI
The Global Talent Mobility Company®
MSI – the leading provider of global talent solutions to corporations worldwide. Through the alignment of our global mobility solutions (including global compensation and immigration services), talent management capabilities, and global expansion services, we enable companies to grow, compete, and globalize by helping them strategically develop, mobilize, and retain their talent.
This alignment between global mobility, talent management, and global expansion services is increasingly critical as corporations face mounting challenges with regard to employee recruitment and retention in today's competitive marketplace. MSI focuses on delivering services that yield measurable outcomes to both the employee and the business.
Our highly skilled and service-oriented workforce, and tri-regional operation centers located in the Americas, EMEA, and Asia Pacific, allows MSI to provide a one-stop solution for talent mobility in over 190 countries and territories.
Winner of HRO Today Magazine's "Baker's Dozen Customer Satisfaction Ratings: Relocation – 2015"
Winner of the Americas EMMA award for "Relocation Management Company of the Year 2014."
Winner of the Re:locate Magazine Award for "International Service Provider of the year 2013."
For more information on MSI, please visit: http://www.msigbs.com
Contact:
Nick Royle – Vice President, Marketing & Communications
MSI – Mobility Services International
+1.603.274.9100