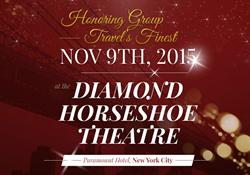 New York, NY (PRWEB) October 05, 2015
The American Group Travel Awards being held at the Diamond Horseshoe Theatre in the Paramount Hotel will be honoring the top providers in group travel on the night of November 9th, 2015.
The black-tie awards dinner held by AGTA is being sponsored by HotelPlanner.com, the world's largest online group travel provider. The 20 award categories this year range from hotels to airlines, city destinations to cruise lines, and shopping to theme parks. Each of the nominees in their respective categories represent the best operators that service and deliver outstanding travel experiences in North America.
Voting will officially close on Tuesday, October 15th. Visit http://www.americangrouptravelawards.com and click on the "2015 Vote Now!" link featured on the site's homepage. The winners will be announced on stage at the awards. No one is notified about the voting outcome beforehand.
For more information about the event, please contact Bruce Rosenberg at 818-661-0244 or via email at Bruce(dot)Rosenberg(at)americangrouptravelawards(dot)com