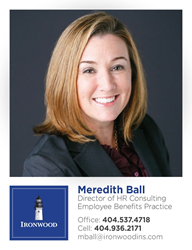 We are excited to offer Meredith's experience and expertise in HR to Ironwood clients.
Atlanta, GA (PRWEB) October 08, 2015
Ironwood continues to expand its capabilities in response to the growing needs of its clients. Meredith Ball joins Ironwood to lead the firm's growing HR Consulting Practice. Building strategic partnerships with clients, the practice will enhance each client's Human Resources related agendas with industry expertise.
Before joining Ironwood, Meredith worked for InterContinental Hotels Group (IHG), in Atlanta, Georgia, where she held the position, Director of Human Resources. She was responsible for partnering with Sr. leaders throughout IHG's North American headquarters to create and implement their "people plans". At IHG, Meredith drove organizational effectiveness by leveraging top talent to build stronger teams and implemented robust action plans to improve employee engagement and create a winning culture for the group.
Managing Partner Mark Conner states, "Meredith brings to Ironwood a great deal of experience leading organizational re-alignments as well as developing and implementing change plans." Conner continues, "Having worked as an in house EEO Investigator for Pfizer, Inc., prior to joining IHG in 2010, she has handled difficult and complicated employment matters at all levels of an organization. We are excited to offer Meredith's experience and expertise in HR to Ironwood clients."
A native New Yorker, Meredith graduated from the State University of New York at Albany, with a Bachelor's degree in English. She currently resides in Atlanta, where she is a member of SHRM, Atlanta.
About Ironwood: Ironwood Insurance and Employee Benefits Services is a privately held firm providing insurance brokerage, surety services, risk management, employee benefits and human resources consulting services. Our firm was founded on the principles of teamwork, integrity and service to others. We recognize that our people are our most valuable asset and believe that great people deliver excellent customer service. Our success is measured by the amount of positive impact we have in the lives of our clients, employees, shareholders and community. To learn more about Ironwood, please visit ironwoodins.com.