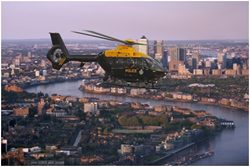 Winning both the NPAS fixed-wing contract and the earlier rotary-wing contract was a great honour for CarteNav, and we look forward to showing some of the software's new features to a wider audience
Halifax, Nova Scotia (PRWEB) October 06, 2015
CarteNav Solutions, (http://www.cartenav.com) the international leader in mission management software, will be demonstrating their very latest products at Helitech International next week at booth M55.
Having recently won the National Police Air Service (NPAS) contract for the new fixed-wing surveillance aircraft, CarteNav is looking forward to demonstrating some of the key new features that so impressed the UK police.
Mr. Paul Evans, CEO of CarteNav, said "Winning both the NPAS fixed-wing contract and the earlier rotary-wing contract was a great honour for CarteNav, and we look forward to showing some of the software's new features to a wider audience".
CarteNav won the contract to supply the software for seven NPAS EC-135 helicopters in 2014, and more recently won the contract to supply four new Vulcanair P68 fixed-wing reconnaissance platforms with a similar system.
"Our software is used in various roles, including airborne ISR, Search and Rescue, and infrastructure monitoring as well as law enforcement" continued Mr. Evans.
Though based in Canada, CarteNav has a growing global customer base with military, government, and commercial clients in 18 countries over 6 continents.
The version of AIMS-ISR® that is optimised for airborne police operations can integrate a wide range of sensors, including surveillance cameras, vehicle trackers, and searchlights. It can also link up multiple clients in the air and on the ground to provide every user with a comprehensive, real-time operating picture.
In addition to CarteNav demonstrating AIMS-ISR® at booth M55, it can also be seen fully integrated on one of the NPAS' EC135 helicopters on the static display at the show.
About CarteNav Solutions Inc.
CarteNav Solutions Inc. is an international leader in mission and sensor management software solutions for the airborne, land, and maritime environments. Founded in 2002, CarteNav offers operationally proven technology that integrates, manages, and displays relevant data that dramatically improves the performance of both sensor operators and tactical decision makers. The company has established a reputation for providing sought-after and high-value solutions that can be deployed on a wide variety of platforms for multiple mission types for government, military, and commercial customers.
About Helitech International
Helitech International 2015 will take place at ExCeL, London, from 6-8 October, and is the largest helicopter exhibition in Europe dedicated to helicopter products, parts, accessories, and services. The show brings together leading manufacturers, suppliers, operators, buyers and engineers in the industry and in 2014 saw 180 companies from 20 countries exhibiting.