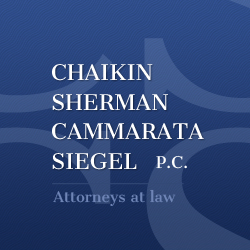 (PRWEB) October 05, 2015
Chaikin, Sherman, Cammarata & Siegel, P.C. is pleased to announce that Partner Joseph Cammarata has secured a substantial $4.5 million verdict on behalf of a pedestrian who was struck and injured while in a crosswalk by an Alexandria Transit Bus. The case (Circuit Court for the City of Alexandria, Case No. CL14003842), involved the hotly contested issue of contributory negligence, and issues relating to negligent retention.
According to court documents, Mr. Cammarata's client had been struck by a left turning bus as she was approximately ¾ across a crosswalk near King Street metro station in Alexandria, Virginia. During the case, the defense focused on Virginia's law of contributory negligence, which prevents injured parties from recovering compensation if they are found to have contributed to the accident in any way. The defense stated that the victim did not look before she stepped into the crosswalk and was looking down as she walked through the crosswalk.
At deposition, records show Mr. Cammarata's client testified that she did not see the bus that hit her at any time, but that also did not see anything that was a danger to her. The bus was on its side of the double yellow line and had not started its turn when she stepped off the curb into the crosswalk. At trial, she testified that she did not remember seeing the bus.
Based on videos obtained from three busses that documented the crash, Partner Cammarata was able to establish that the driver doubled her speed from the double yellow line to the moment of impact, and that as she drove the bus, she was not looking at the roadway ahead. Mr. Cammarata worked with an accident reconstructionist, who testified that had the bus not increased its speed, the collision would not have occurred, court records show. Court documents also show that Cammarata introduced information about the driver that suggested negligent retention and negligent entrustment by the Alexandria Transit company. This included the driver having four preventable accidents prior to the crash with Mr. Cammarata's client.
As a result of being hit, Partner Cammarata's client was trapped under the front driver's side tire and suffered serious injuries, including an internal degloving injury that required multiple surgeries. She was also diagnosed with PTSD from the collision and was deemed unemployable due to her injuries, which injuries cause her limitations on sitting, standing, and walking.
Ultimately, the jury ruled in favor of Partner Cammarata's client on all claims, and awarded $4,500,000 in compensation. The verdict will not only provide a sense of justice to his client, but also much needed compensation for her pain and suffering, extensive medical expenses, and diminished earning capacity.
Joseph Cammarata is a nationally recognized dual board-certified civil trial attorney. Among his many accolades and memberships, Mr. Cammarata is the current President of the Trial Lawyers' Association of Metropolitan Washington, DC and a founder and current President and Treasurer of the Brain Injury Association of Washington, DC. As Partner at Chaikin, Sherman, Cammarata & Siegel, P.C., Mr. Cammarata represents injured victims and families throughout the DC Metro area.