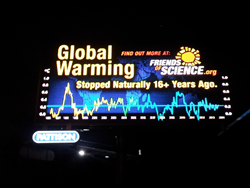 Science has progressed through a uniquely productive marriage of human creativity and hard-nosed skepticism, of openness to new scientific contributions and persistent questioning of those contributions and the existing scientific consensus
Calgary, Alberta, Canada (PRWEB) October 06, 2015
Friends of Science Society have released a new paper entitled "Infiltration" that rebuts the view of authors Lewandowsky, Oreskes et al (2015) in their paper "Seepage" published July 2015, in Global Environmental Change, and claims that "Seepage" contradicts the fundamental principles of scientific inquiry in the codes of two major US science organizations, "On Being a Scientist" (2009) from the National Academy of Sciences (NAS) and the American Association for the Advancement of Science (AAAS) publication "Scientific Freedom and Responsibility" published in 1975.
"It is unfortunate that in the field of climate science, it has become an acceptable norm to call any dissenting scientist a 'denialist' or 'contrarian' and I personally feel strongly that these kinds of words are inappropriate in a scientific discussion," says Michelle Stirling, author of the paper, explaining what led her into this area of research. "These codes of conduct appear to support my view."
Stirling is an independent researcher/writer who also serves as Communications Manager for Friends of Science. Stirling argues that the opening statement in "Seepage" attributes motive when none is shown in the paper, and that 'consensus' on climate change is only a social proof.
Both codes of conduct publications encourage thoughtful, respectful debate and both highlight the value of skepticism in ensuring the integrity of science.
An excerpt from the NAS booklet "On Being a Scientist" states: "Science has progressed through a uniquely productive marriage of human creativity and hard-nosed skepticism, of openness to new scientific contributions and persistent questioning of those contributions and the existing scientific consensus."
Friends of Science conducted a review of the main 'consensus' papers and published their report "97% Consensus? NO! Global Warming Math Myths and Social Proofs" in 2014, which they say shows only 1-3% of scientists surveyed believe there is any imminent threat from climate change. Instead they found that there are many 'robust' views on climate, as Roger Pielke, Jr. wrote in May 13, 2005, published in Science magazine in rebuttal to Oreskes original 'consensus' claims published Dec. 3, 2004 in Science Magazine, entitled: "Beyond the Ivory Tower- The Scientific Consensus on Climate Change" by Naomi Oreskes. [LINK: sciencemag.org/content/306/5702/1686.full]
The AAAS publication "Scientific Freedom and Responsibility" says that "Science results in knowledge that is often presented as being fixed and universal" but it goes on to say, "Scientific results are inherently provisional. Scientists can never prove conclusively that they have described some aspect of the natural or physical world with complete accuracy. In that sense all scientific results must be treated as susceptible to error."
Three video clips accompany the paper.
Friends of Science Society holds the view that the sun is the main driver of climate change, not you and not CO2.
About
Friends of Science Society has spent a decade reviewing a broad spectrum of literature on climate change and has concluded the sun is the main driver of climate change, not carbon dioxide (CO2). Friends of Science welcomes earth, atmospheric and solar scientists, engineers and citizens who challenge the alleged consensus on climate change.
Friends of Science Society
P.O. Box 23167, Mission P.O.
Calgary, Alberta
Canada T2S 3B1
Toll-free Telephone: 1-888-789-9597
Web: friendsofscience.org
E-mail: contact(at)friendsofscience(dot)org